Many years ago, they came up with a work that blended folk music and flamenco with his twin, Burke, which shook the place … Öykü Gürman came into our lives that day, in his powerful and passionate voice, he never appeared again His twin, Burke, followed his love for Flamenco and settled in Spain. He is singing there. Ykü Gürman, on the other hand, has written countless songs so far, and performed from his saddlebag … he also showed his claim in acting and was much loved. This time, Gürman is on the agenda with his interpretation of Ayaz Gesella's song, which became famous in the 80's with the voice of Burhan Kakan. We talked to a famous artist who got married recently, about his music and acting career as well as love …
– We first heard from Burhan Kakan in the 80's, It was a popular song of that time. Frosty Nights… This time you brought this song. Your story What? Frosty Nights'S?
– It's a song that belongs to a variety of genres of music that we've sung with my twin Burke for years. I sang it from time to time, but the stage was not included in my collection. One day, when I started cleaning the house alone on my holidays, it started pouring out of my mouth. I started humming too, and then I said it all. I realized that I had said it three or four times before the clear. Then I started to warm up the idea of ​​why I can't rearrange and explain this song with today's understanding. Then I took the song to Sagegin Gagegin. Consistent with today's perception and the consciousness of this age, it created a completely different environment. In transferring the spirit of that time to this world, we took care to make sure that it was faithful to its original structure but on a level that could be heard anywhere in the world. The positive comments and feedback from my audience has made us happy as a team.
– Arabesque, folk songs, art music, fantasy … with Flamenco You have always been interested in all these genres together. And As if his music had a synthesis of all of them. You again Arranged as Flamenco with your brother Burke We met a song. Flamenco and Turkish music Do you think there are similarities between the different types? Both musical and spiritual?
– We used to sing at home since childhood. We learned the taste and knowledge of Turkish music from my mother and foreign music from my father. In fact, it is very difficult to separate the two from each other biologically. They are only connected in spirit and attitude. We see that different lands, languages ​​and expressions have changed. Turkish music is a kind of music that has come to our ears since childhood in this country. We are all familiar. To have a certain style and attitude for singing and performing one has to go through the education of a good master. This method is also used in flamenco. In addition to flamenco, body language, dance, legs and hands also contribute. The rhythm of the soul is integrated with the oscillation of the body. In flamenco the dancers perform the same movements with the guitar, like the whirling saint who revolves with the mighty power of something.
– Although we know you as a singer A great actor has come … acting How did you discover your talent? Then Who showed you the way to acting Related?
– Everything you have in your pocket, your life experience, what you read, what you see, what you hear, all come together and merge with education in one container. I have been watching, reading and listening to a lot since childhood. I always had a theater and a movie next to my bed. I still like old Turkish movies and imitate a lot. I knew I had this ability. For those who play the violin, know the musical instruments, and believe in the necessity of education, I have received training from Altan Gordum and Vahid Gordum. I have improved myself by seeing big names like Juhal Olke and Osman Sinho on the set and their ideas.
– Your voice is always a mixture of sadness and excitement. It will pass me by … It gives me both peace and a sweet sorrow … Flamenco is a bit like that … Have you ever thought about that? On this subject? Your voice, your singing style What do you think was the reason for the impact?
– Which you carried when you were growing up. Like a current. What they store in their beds determines their character traits. Your emotions are reflected in your voice. In the songs we sing, you can see the signs of the spiral flow of natural life. Sometimes you know how to reflect that feeling of birth in your voice, sometimes it takes shape through education. The strategy needs to be in favor of normalcy, not to kill the emotion. You have a small voice, but your emotions are so strong that the ground moves.
– A musician, with the sensitivity of an artist What does love mean to you? What can it do? The journey of self-discovery Is it for fuel production, Is it life itself?
– Love is a magical journey. The state of being isolated from the soil at first. Then the state of being with yourself in the mirror. It reminds you again. To love someone unconditionally, to value, to share. A state of feeling peace by embracing oneself like a cat by the stove. It affects the rhythm of your heart, your chemistry, your eyesight, your expression. Your climate is changing. It should include tolerance and respect. It is also reflected on your product. The words you write and the melodies that come out of you become colorful. Love exists at every level of life. You can hear it for a thing or a flower. Mode of existence.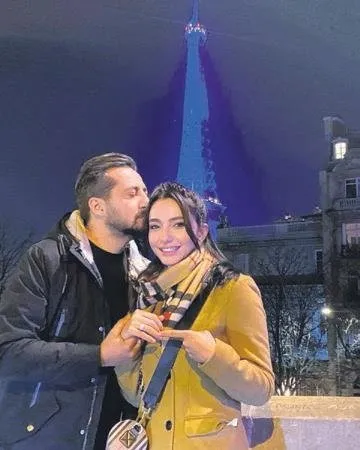 Marriage Offer In Paris I bought it
– First of all, congratulations, you got married early in the period. If you were allowed a little tabloid, could you tell us how you met your wife, what kind of person she is, and what aspects of you complement each other?
– The marriage proposal came in Paris, it was beautiful. We went to the concert, I didn't think the marriage proposal was coming. Before the concert, we said let's go for a walk and then we'll have dinner. In front of the Eiffel, my manager and his wife went there so we could all take pictures together and spend a moment. Then, when a box from my manager's pocket went into Fatih's hand, I realized and I was very excited. I'm happy. Improvisational development happened to me just when I didn't expect it. I'm not the kind of person who likes to exaggerate things like this on a planned schedule. So it is very simple and developed naturally. Our love is shared, full of faith. An understanding and tolerant relationship with each other. I am very happy. In this sense, Fatih is someone who understands and supports my work, my profession, my habits, my character and my outlook on life, especially when he is with me in my work, who protects and sees me, who is truly my Likes to be happy for happiness, and those who can achieve it.
Bark is very happy in Spain
– We know your brother Burke lives in Spain. What is he doing for life and music? How are their days going … Are you planning to do something together again?
-Bark is very happy in Spain. For a long time his dream was to live in those countries and do flamenco. He took the stage at the festival, co-produced and shared the stage with musicians like himself. Together with Burke, we sang Forgotten Is So, with music and lyrics by Niran Unsal. This was our closest joint venture. He is a good flamenco guitarist, singer, arranger, lyricist. It has sharp limitations in flamenco.