Semih Ersojler / Antalya, (DHA) – UAV
340 children who fled the war in Ukraine and came to Antalya with their families were trained by 48 volunteer Ukrainian teachers so that they would not fall behind in their education. Drawings of children in the course with psychologists reveal the effects of war on children. Also, due to the war, 159 orphans living in orphanages were relocated to Poland and 26 caretakers came to Antalya. A meeting between Emin Erdogan, wife of President Recep Tayyip Erdogan, and Olena Zelenska, wife of Ukrainian President Vladimir Zelensky, revealed that Ukrainian orphans had been brought to Antalya.
class = "medianet-inline-adv">
A course was opened at the Women's Arts and Education Center with the support of the municipality of Conialty so that the 340 children who left their country and came to Antalya with their families due to the war in Ukraine did not fall behind in education. Their families also come to support courses where 48 volunteer Ukrainian teachers teach Ukrainian children of all ages, from pre-school to high school-age teenagers.
Their paintings have also fascinated psychologists
To understand the state of the inner world of children who have been psychologically damaged in war, an experiment was performed by volunteer psychologists. While living in Ukraine, children, who were asked to draw pictures of their families, drew tanks, soldiers and bombs falling from the sky.
Some children draw their parents' blood on the grave, while others draw their families hiding inside the house. Also seen in a child's drawing, a child who wants to return home after the war draws a picture of a heart and holds it in his hand.
"They live in post trauma syndrome"
Volunteer psychologist Irina Chemadurov, who explains children's drawings, explains that they run a series of studies to understand how children fleeing war feel in their inner world. Chemadurov said, "We did an exercise to understand how children feel, what kind of emotions they have inside. We have seen their socialization.
class = "medianet-inline-adv">
Children, especially those who have come out of the war, are currently experiencing post trauma syndrome in their inner world. They say draw family, but the child draws his family so that they are not visible in the house. In one of the paintings, he depicts a Russian soldier killing his family, "he said.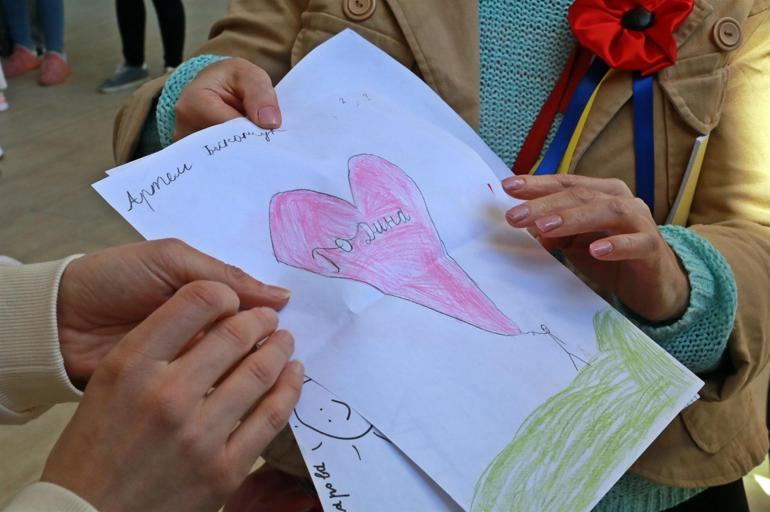 "We want them to live less in the psychology of war."
Conialty Mayor Semih Essen, who visited the course, spoke with families and children here. Noting that Ukrainians who fled their country after the war have taken refuge in Europe and Turkey, Essen said they have prepared a course program with Ukrainian volunteer teachers for the education of 340 students who came to Connaught.
Stating that they want to reduce the war mentality of children, Essen said, "We are conducting activities to ensure that 340 students from pre-school education, including 48 Ukrainians, are given courses till the last year of high school without disrupting the education process. Teachers, so that their socialization and teaching process is not affected. It is very difficult for them to get rid of the mentality of war. But we want them to feel less of that psychology with sports, education and art. In these courses, they get emotional support through socialization and together with their teachers. "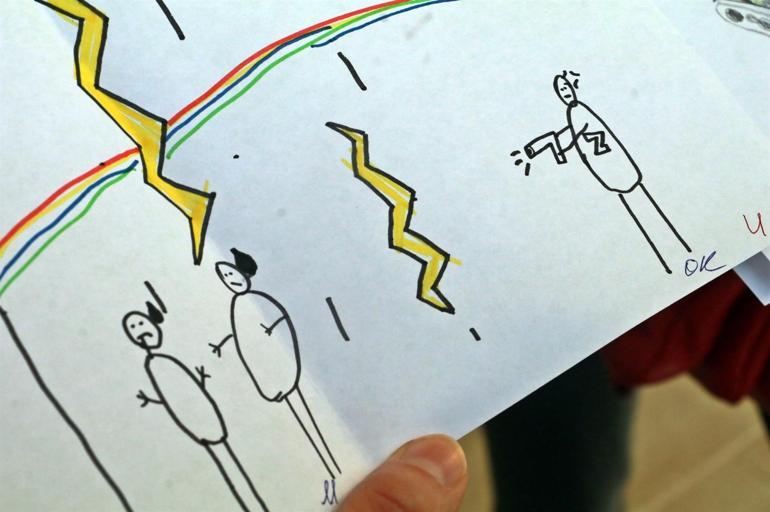 Orphans released from Ukraine have arrived in Antalyaclass = "medianet-inline-adv">
After the Russian invasion of Ukraine, some children and civilians living in orphanages were taken by train to Poland for safety reasons. After a meeting with the Turkish Ministry of Interior, Ministry of Foreign Affairs, Ministry of Family and Social Services and relevant Ukrainian agencies for immigration management, it was decided to admit 159 orphans and 26 care workers for the removal of children from the orphanage. Turkey.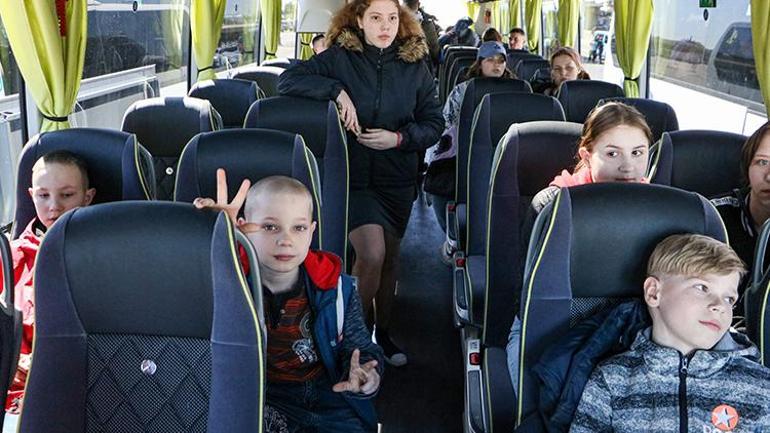 The plane, which was expected to arrive in Antalya last evening on a direct flight from Poland, landed at Antalya Airport around 11pm today. The children were welcomed at the airport by Vasil Bodner, Ambassador of Ukraine to Ankara, and Amir Rustamov, Ukrainian Consul in Antalya. It is known that the orphans will stay in the hotel in Antalya in the first stage. Class = "medianet-inline-adv">
'We are waiting for the second group'
Welcoming the Ukrainian orphans, Ukrainian Ambassador to Ankara Vasil Bodner issued a statement to reporters at the gate of Antalya Airport. Ambassador Vasil Bodner said, "The first batch of children arrived at the orphanage today. With the help of both the Turkish government and Ukrainian agencies, we will put the children in a hotel here. We thank both Turkey and the Turkish government for their help. This first team is coming, but we are waiting for the second team. "The children will come from cities where the Russian army has dropped bombs or can drop bombs," he said.
'He will stay in the hotel in the first place'
Noting that they could host more children, Bodner said: "I think as long as there is war in Ukraine we can host more children here. And they will feel comfortable here. We can invite about 2,000 people from the orphanage in Ukraine, "he hoped. "The kids will be in the hotel first," he said.
class = "medianet-inline-adv">
'We crossed the Polish border by train'
Nikita, one of the Ukrainian orphans, said: "I'm fine and we're fine. We crossed the Polish border by train. We arrived in Antalya on a 3 hour flight. "We like Turkey," he said.
He didn't leave the teddy bear for a moment
Orphans from Ukraine who arrived in Antalya were taken by bus to the hotel, where they would be dropped off at the end of the process. 7-year-old Sonia Horenko, who was at the party, did not leave her teddy bear for a moment until she got on the bus from the airport. After the baby gets on the bus, hold the toy tightly.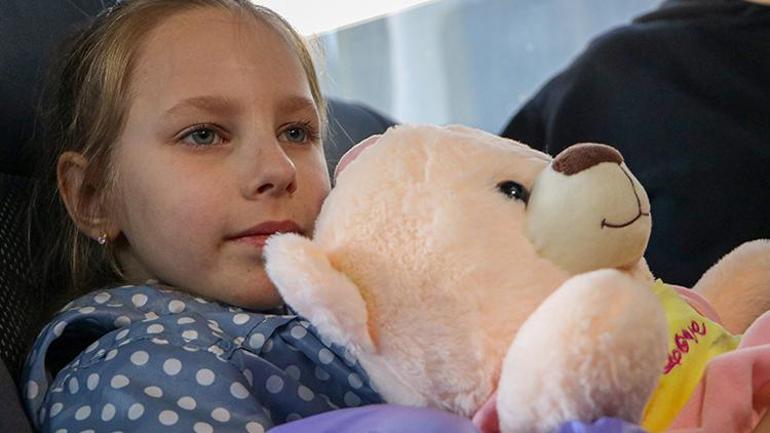 Don't leave himclass = "medianet-inline-adv">
The psychosocial support staff of the General Directorate of Migration Management welcomed the children. A girl with Down syndrome, who was among the children, did not leave the staff in her hand while walking. The hotel where the children will stay has not been announced due to security concerns.
In Yemen, work has begun with Erdogan's initiative
It was reported that the orphans were brought to Antalya after a meeting between Emin Erdogan, wife of Ukrainian President Recep Tayyip Erdogan, and Olena Zelensky, wife of Ukrainian President Vladimir Zelensky. Zelenska met with First Lady Erdogan in the early days of the Russia-Ukraine war and asked for help talking about the situation in her country's orphanages. After the meeting, work began on the initiative of Emin Erdogan. Officials at the Ukrainian Embassy in Ankara briefed the Ministry of Foreign Affairs, the Ministry of Family and Social Services, and the Ministry of Internal Affairs on the situation of the children. With the joint work of the ministry, 159 orphans and 185 people, including 26 care staff, who were evacuated from Ukraine in the first place, were brought to Antalya via Poland.