The 2021 Independence Award of the Norwegian Writers Union was given to Ilhan Sami Kamak and Ahmet Altan. The award was announced today (Sunday, March 27, 2022) at a ceremony in Oslo.
His guardian, Epek Ozil, who received the award on behalf of poet Ilhan Sami Kamak, who has been in prison for 28 years, said:
"You can't imagine how much I wish Ilhan Sami Kamak himself attended the event and received his award tonight.
If so, you would get to know her, see her beautiful smile, her eyes that look at the world with compassion and love and you would feel at first how happy she was for this award.
From time to time, they ask me how a person who has been a prisoner for 28 years can endure such hardships. As a person who has known Ilhan so closely for so long, believe me, I thought about it a lot and then I discovered: Ilhan maintains his power by weaving a cocoon of literature and poetry in the midst of the evil called prison. And thanks to Cell from this poem he made for himself in the middle of prison, he always manages to stay on the side of Mars. It is this miraculous and inspiring willpower that has now brought him this prestigious award.
He may have spent 28 years in prison, yes they did capture his body, but nothing, no torture, no abuse, nothing could capture the power of this expression that inspired the world through his poetry and literature. Now, miles away from him, here in Oslo, you deserve this award, in fact there is a great magic in that sense.
Ilhan chose to use the power of his expression freely to make this world beautiful through his poetry.
It is indeed a great honor to be rewarded after 28 years; Thank you very much. "
Ilhan Sami Chamak, this week, We are finally alive He was also considered worthy of the Matin Altiok Poetry Prize, the 15th of which was organized with his book. The award jury's explanation was as follows:
"In a world where man has rotted into a deadly loneliness, 'lost his memory', nature is dying of destructive lovelessness, and society has no future without fear and violence, although he has not lived in this world for 28 years, with extraordinary smooth language and depth." With poetry. Ilhan Sami Çomak, 15th Matin Altok Poetry Award, for the restoration of the world and humanity with the dream of labor, love, passion for freedom and peace. We are finally alive Submission by consensus. We celebrate our poet. "
The award was given to author Ahmed Altan, who was released last year after nearly five years in prison, but whose trial and travel ban continues, was given to his brother Mehmet Altan.
We are publishing the full text of the speeches of Ilhan Sami Kamak and Ahmed Altan read at the awards ceremony …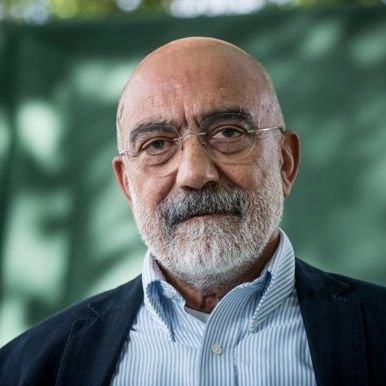 Ahmed Altan:
"I couldn't walk through the forest as if there was no sound."
I have a lot of long adventures with Norway. About thirty years ago, when no one in the world printed my book and I was desperately looking for someone to print my book, one day I received a letter from Norway. The letter is from Gildendal Publishing House. They're going to publish me a novel. My first foreign language book was published in Norway. I never forgot that.
I just didn't win a book in a foreign language. I made many friends, most notably Janeken Overland, who was then Gildendal's foreign publishing editor. For thirty years, neither Janken nor any of my Norwegian colleagues have left me alone. Whenever I get in trouble, I listen to their voices.
I've been to Norway a lot. I have very good memories. I will never forget one. I attended a meeting of your wonderful writers in a town north of you. I had to get up very early to return. I just woke up at five or six in the morning and got in the car waiting at the door to go to the airport. The weather was cold. There was a young woman wearing a coat in the car. "I love your book," he said. "My name is Lynn Woolman." To my surprise in the morning, I couldn't quite explain how much it made me happy. But I still carry the warmth of that moment inside me.
Today you have honored me with an award. I am also very happy to share with a valuable poet who has suffered a lot. I must say that he is far more deserving of this award than I am.
Everyone here knows that writing is a lonely walk in a forest that remains untouched, quiet and wild, even though thousands of writers have gone through it, paving their own way. I wanted to dedicate my life to the pure, wild, painful and joyful adventures of literature. Unfortunately this was not always possible.
I heard screams in the woods where I thought I was going to walk quietly. The cries of oppressed, exploited, oppressed, victims of injustice, captives, tortured and starving people. I only had one pen which should have been a gift for literature. And I was confronted with the dilemma that many writers face. Walking in the path of literature or to see what those people who have strayed from the path are going through আমি I could not remain indifferent to those cries. I used the time and effort I put into writing my own novels to listen to the pain of the people as much as possible.
I still don't know if it's something for a novelist to brag about or regret. But I could not do otherwise. I couldn't ignore that scream. I couldn't walk through the forest as if there was no sound. I listened to them. When you hear it, you are walking towards that sound without your hands.
Thousands of innocent people are in prison today. There is injustice. There is injustice. Shall we forget those innocent people in prison? Are we going to pretend they don't exist? I don't blame those who can do that, maybe they are doing what is needed for the novel. But I can't do that. I can't forget the innocents in prison.
I have seen their mother, father, children, wife, husband. I ran to the little boys and asked the guards, "When will you let my father go?" I mourned the loss of a young woman whose sister had died of starvation. I have witnessed poverty and despair. They exist and cannot be heard. The silence that surrounds helpless people is the most horrible form of oppression. I did not participate in that persecution.
Today we see millions of people in Ukraine suffering a bloody atrocity. Can any of us ignore this? Is it possible for us to turn a blind eye to similar misery in the Middle East?
I know time goes by, events end, what happened is forgotten, only literature remains. I believe that the most sacred profession of humanity is writing and the greatest value of humanity is literature. If I could devote all our time to literature.
But there are screams and being a writer does not mean being deaf.
Those who suffer leave the world, but literature says that there is pain left in the world.
I thank all of you for honoring me with a valuable poet and for making me worthy of this award.
If you will allow me, while accepting this award, I would like to recall once again the suffering of the innocent prisoners of my country and the heroic children of Ukraine. They are the victims of thousands of years of oppression today. And I think writing includes touching people in the name of humanity and apologizing to them.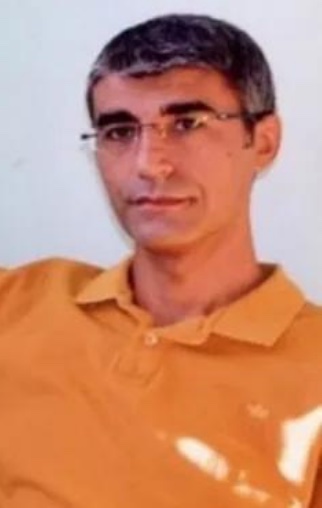 Ilhan Sami Kamak:
"Now my horses are stronger and faster."
Dear friends,
As I get closer to my release from prison I want to speed up the days and then, always, move on to the next. So far, so good that I can get to the level of freedom and life that I can describe as the future as soon as possible. Yet it never happens. Like everyone else, I am doomed for the present. Yet I have endless desires and feelings. The horses inside me are constantly breathing in my lungs to run on the plane of life.
I was not in good condition over time. Because it is in constant collaboration with the place, that is, with the solid walls and the iron door, creating a viscous ominous condition that makes me breathless.
However, when I was writing poems with my boundless passion and devotion to life, I never stopped trying to expand the space and extend the time a bit by shaking the walls according to my imagination, talent and determination to work. But life did not wait for me, it took all the color with all their festive beauty. I have been in this dark and cold concrete land for 28 years. In your presence, I complain about time and space.
I have one more complaint: those who rule us. The reason why so many problems in the world have increased and become more complicated is that those who claim to rule have not succeeded in this task. The fact that many enduring problems, such as wars and conflicts, income inequality, and environmental problems that threaten our present and future, are not solved, indicates that we are poorly managed.
I think we should leave management work in the hands of artists. A world ruled by poets, musicians, painters or novelists will be a wider and more habitable place, softer and more understanding, free from superstition and where we can realize the essential importance of life. Let's believe it!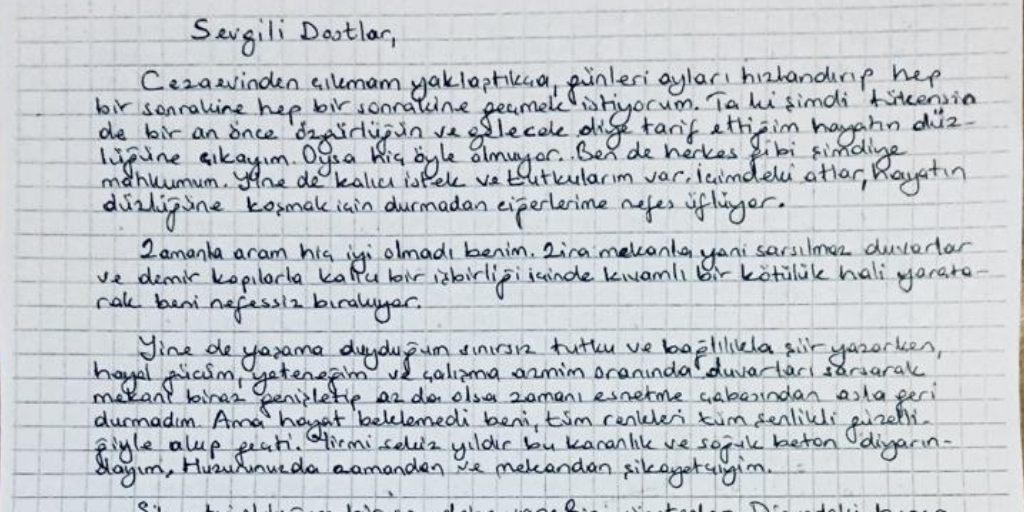 Dear friends,
Over the years, I have always confused fate with the joy of survival. I was a wounded and miserable person who was harmed by injustice, but my mere desire and love for life made me think otherwise and did not see my misfortune. Probably a factor as to why they're doing so poorly. My conquest of De Vivar forced me to forget the fact that I was unlucky. Good thing it happened.
In recent years, the feeling of "I'm a lucky person" has started to haunt me again. Because I am for life. My poetry is slowly proving itself and the sincere support of poets from many countries makes me feel lucky. I'm happy. Because I am for the world that poets dream of. The solidarity efforts of intellectuals, writers and poets who care about truth, truth and justice, tell me that I am a responsible citizen of the world and that it connects me to their unique friendship with a privileged privilege. I'm happy. Because I am in favor of the love that grows when I communicate with people. I know twenty-eight years stolen from my life will not come back, but I am happy with this support.
Dear friends,
My voice is heard in Norway thousands of kilometers away, and knowing that my lifelong endeavors and endeavors through writing have been seen and appreciated through a reward, illuminates my narrow room, and I am happy for a reason that is rarely seen here. I am really glad that you once again warmly declared to me and to the world from that cold country Norway that the main human aspect is love, kindness, solidarity and protest against injustice.
This award, which I deserve, also confirms the validity of the values ​​I have held for years, but it kindly informs me that I have proved my literary existence by crossing this country of poverty.
I would like to convey that I received the award with a great sense of honor and responsibility, because it is the unique time of the poem, the poem that gives beautiful life and the poem knows no obstacles.
Now the horses in me are stronger and faster. It's so hard to stop!
Thanks.
A