Semih Nisansi
The Turkish High School Association (TLB), which brings solutions to every problem Turkish youth have, has carefully completed the sports equipment group it organized for Kiziltep Sports High School in Mardin. "We're taking action against drugs!" After 1 month of working with the slogan, the collected materials were delivered on March 23rd.
TLB Chairman Baris Dickman and TLB youth who visited Kızıltepe have become one heart with the students of Kızıltepe Sports High School for a better future and their determination to fight against bad habits.
We spoke with TLB Chairman Baris Dickman about all the details of imece, the environment of Kızıltepe and the situation at the sports high school.
From football to chess, from badminton to athletics.
TLB, which has been going on for a while, said, "We're taking action against drugs!" Successfully completed the study of the main idea sports equipment. Can you tell us about the type of sports equipment provided at Kızıltepe Sports High School?
First of all, we would like to thank the Aydınlık newspaper and the Turkish nation again through you. I am happy to say that we provide the necessary materials for our school. Mardin Sports High School is a school that specializes in football, volleyball, handball, badminton, basketball, athletics and playing chess. As a result, these branches need materials to use it. First, we rolled up our sleeves and collected the necessary materials to complete these materials. We've met demand for team tracksuits, training t-shirts, football, volleyball, basketball, handball balls, match uniforms, and chess sets.
You went to Mardin and met the students. You also had the opportunity to talk to the students and see their joy and that enthusiasm is reflected in the photographs. Can you elaborate on the environment and students' perspectives?
We went there with our high school friends. In our delegation, we had friends who represented TLB from Edirne to Ankara, from Antalya to Eskiেehir. We have specially planned this. Our members from some parts of our country have provided very special moments to meet their friends in Mardin. Because we didn't just transport our materials to Mardin. We have conveyed hope, struggle, determination and future aspirations to our friends. When we entered the school, it seemed like we were friends and acquaintances who had known each other for years, rather than outsiders. We talked about their work and preparation in their school. We also shared our struggles and gave our TaLeBe Magazine, written entirely by our high school friends.
'Sports high school requirements should be determined'
Sports, cultural events, art activities… all these mean that young people move away from bad habits. What should be the state policy towards sports high school?
Generation Z's misconceptions about young people around the world are driving young people away from their country. She isolated her culture, herself, her gender, her state and her nation. The freedoms it offers include disobedience, bigotry and drug abuse. The purpose of all this is to keep the youth thoughtless and jobless. Because the condition for destroying and defeating a country is to take control of the youth. So we encourage young people to take care of sports, art, science and culture.
Our state is working positively in this regard, but it is not enough. The increase in the number of sports high schools enables the youth to move away from their bad habits, but opening sports high schools alone is not enough. The requirements of these high schools need to be identified and met on a regular basis. It is necessary to facilitate access to cultural activities in the region. Our high school facilities, especially in the East, are still inadequate. They have many demands. We regularly receive lots of material requests from our school, teachers and high school friends. Most high schools strive to provide a successful education for their students at their own expense. We must embrace the struggle of Hassan Ali Usel, the former Minister of National Education of our state, and adopt a motto: "Do not leave any flower that blooms on its own flower, in the mountains, on the slopes, in the countryside, even in the most remote places."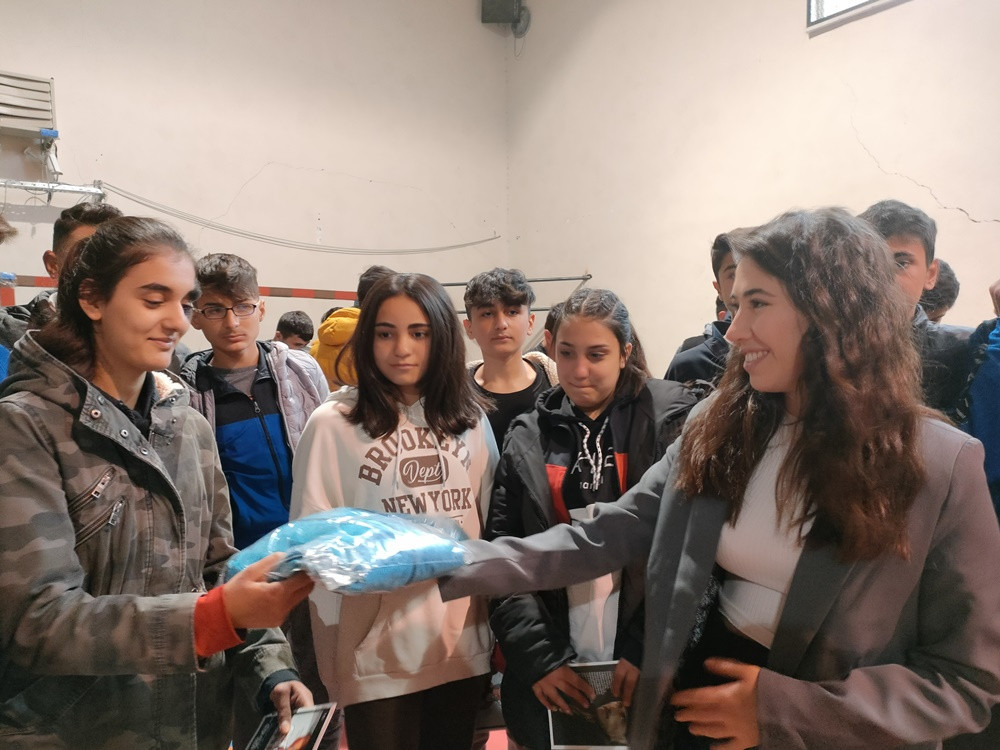 Do not go into despair!
After this cooperation, which again strengthens the unity and solidarity of Turkey, I ask you to address the Turkish youth, TLB members and volunteers.
We have some problems in our country, we are aware of this. But it does not disappoint us. Because people who are interested in the problems of the society forget their own problems. Those who will heal the wounds of our country will also treat their own wounds. Those who share the suffering of our nation will have no suffering.
We draw strength from the unity of Turkey, its historical background and the great legacy created by the republican revolution. This is why the Turkish High School Union is the only high school organization in our country and a meeting place for high school students. So we get involved in big things and show a willingness to solve problems. We succeed in everything we do.
To our citizens who support our Tech Action Against Drugs campaign, to our high school friends who raise their pocket money to meet the material needs of their friends, our Ministry of Youth and Sports, Turkish Chess Federation, Muratpasa Municipality, GeneralBirligi Sports Club, Al From our teacher Eren Kurekçiler, Aydınlık newspaper writer Savaş Eskigülek and to the propaganda campaign. We want to thank you, dear Semih, who did not leave us alone from the beginning.
In charge of the Turkish High School Association, the future of Turkey is in safe hands!