class = "cf">
I guess back then 4-5 I was about your age. Ankara Verlique neighborhoodWhat a flood. Ankara was then like a big city, experiencing the excitement of development and civilization. Wherever there is fire, flood or murder, Before writing the newspaper Everyone must listen from ear to ear, became curious and flocked to the scene.
They drink sugar water
At night, my mother, with all the neighbors, held my hand with my sister, In flooded areas Accepted. It was dark. The houses in a pit were half submerged, surrounded by huge crowds, With fear, with compassion He sees people, some of whom get on boats and climb on the roofs of houses. To rescue Working, some of them are still in the water Was helping.
class = "cf">
Those who have been rescued have been brought to shore, where we are, all in the crowd are on the heads of those rescued from the flood, some of those who come out with the pure water they brought with them first wash their faces and then everyone. Them Sugar water They were drinking. My brother and I stared at them in horror, holding Mother's hand tightly.
To intimidate
Why sugar water? As children, we were curious about this, among other things. My mother: "Daughter, whoever is afraid will be given sugar water, keep that in mind too?" He told me that I had never forgotten the words I had heard from my mother that day. Many years later, when I became a doctor, I looked at this sugary water problem scientifically and saw how accurate my mother was.
In medicine, the first thing that is done in hospitals is to open a vascular access of the patient and insert the serum. What is in the most used serum? Sugar! In other words, we give sugar water intravenously to our patients. Water is healing for soul and body. Especially if that glass of sugary water is put on the children's heads and shown affection and intimacy towards them, then the healing of water and sugar increases one fold.
If it is ours
If we think back to that day, let's go back to them. My mother's pocket was already filled with paper candy. While distributing these among the women and children, he patted each of them on the back and spoke to comfort them.
class = "cf">
In the crowd, a boy my age grabbed his mother's wet skirt, "Mom, let's go home." She was crying. I saw it there that day No details were deleted from my memory But tears flowed from the baby's eyes and his sigh almost stuck in my mind. The boy stared at their half-full house in fear, always pointing his finger at the house. My sister and I often looked at each other, trying to get encouragement from each other. The same thing was going on in our minds; "What if our house is like that …"
Like losing a relative …
Since that day, I have never forgotten how important a home is to a child. Is it just for the baby? It is for all of us. Losing one's home in such a catastrophe is as painful as losing a loved one suddenly. Our homes are our only refuge, which protects us from all the evils and dangers of life, protects us, binds us and gives us confidence. Although this house is a cottage …
class = "cf">
Whether we are beaten, insulted, humiliated or beaten in that house, that house is our home. That house is ours, and we own that house. Those houses give us confidence that we can't find outside.
That child comes to us
People were also shown being brought out of the water that day Compassion, intimacy, compassion, a warm helping hand has reached them. I've seen how valuable it is. Many nights have passed and people were confused about where to take refuge. The crowd took them one by one to their homes. Ours too "Mom, let's go home." The boy cried and his mother fell.
They go to the bathroom first because they are both covered in mud. Meanwhile, my mom quickly found something to wear. Then put a hot soup in front of them. Our house was small. We had two rooms. In one we slept with the kids, in the other my mom and dad. That night, beds were made for our children in my mother's room, and our guests were in our room.
class = "cf">
We miss this race
His wife was in the army. Early the next morning, they left with a thousand prayers for my mother. I don't know where they went or what they did. But old Ankara was such a city. Everyone took care of everyone else, people almost competed to help each other.
What a great nation they are! We miss that race.
Forest burning is a human crime
HundredsOne of nature's most valuable treasures, formed over thousands of years and inhabited by thousands of animals. Forest burning is a crime against humanity. Do not burn trees, soil or forests of any country, even if it is your enemy. One day the enmity will end, but you will not be able to restore the destroyed forest or damaged nature.
class = "cf">
We humans are the real home of the world. Our favorite planet is not only ours, but also the home of future generations, such as our children and grandchildren.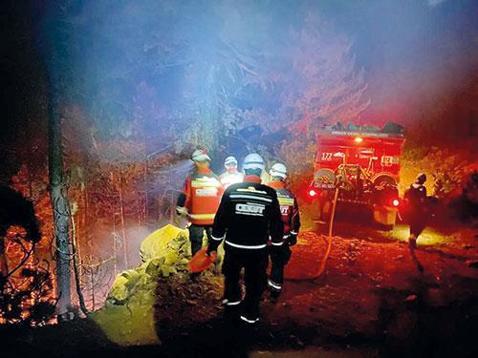 We humans are not the only owners of our world. They, like mountains, hills, forests, seas, animals, have existed in our world long before us. We came after all, moreover, we thought we were the masters of the world. However, the earth belongs to all of us, alive and dead. If they have everything, we are there.
We always need each other. So we live together, collectively …
They used to say that the neighbor needed the ashes of his neighbor. Now the neighbor doesn't even know the neighbor. They are killing people in the next apartment, they don't know this. However, we can only find the feeling of trust that we need most in each other.
Our souls are in the hands of the enemy
Since we forgot to say "we" instead of "I", everything else has become foreign to us except the house we live in. Became a hand house, a hand neighborhood, a hand garden, a sea, an animal and a hand forest. Their hands have made the enemy of our souls. That's why we pollute everywhere, throw our garbage around, don't protect animals and kill nature ruthlessly, which we can't say.
On the other hand, it is not as easy as we used to say today. See the state of the earth!
We were more or less the same. There was no one who didn't even know the account of their money and wondered where the money would go. We could not sleep happily if our neighbor was hungry, he was full and sad. No one was proud of their money, no one looked down on those who did not have money. The books we read, the schools we finished, the profession we had and the families we were most proud of and the biggest source of pride for the family was their honest, well-behaved children who studied, got a job.
Another day on the Internet, every year, the richest man in the world is in America. "Valley of the Sun" I read that they met at a huge facility in a place called "Summer Camp" The meeting was attended by 25 rich businessmen of the world. Total resources of camp participants 25 825 billion It was written.
I never imagined what 8 825 billion would mean. Some say that this means more than half of the world's population, even more than all their wealth. They worked, they used their minds, they won. None of us look at property or income, but at the people of the world. "I" If he keeps saying that he is riding on the back of a poor country, then the world will be ruined, then this money will be of no use to anyone. Is this why they are looking for a place in space?
We are the most beautiful 'we'
And yet, come now, come to the inhabitants of the earth. "We" Also …
In particular, the epidemic we have experienced has shown us that if a poor person on the other side of the world is infected with corona, we have no chance of staying healthy. If she is hungry, if she can't even feed her children, if she has no doctor to look after her patients, if she has no medicine for her, if she can't even build a small cottage for herself, some of them live well. By Building, do you think there is nothing wrong with that …
Man is in fact a divine being. Of all these creatures, the Creator gave him the best. Should we be given this higher talent, our mind, intellect and conscience which has been given to us?
We are most beautiful when we heal each other's wounds, when we do not lend a warm helping hand, when we do not go to bed full when our neighbors are hungry, when we are sorry for each other's pain and rejoice in their happiness.
We are most beautiful when we are "we" …
It's good to see that we can be "ours" again in the recent fire …
How wonderful it is to be able to feel the same pain in our hearts together and to help and share the pain …
Goodbye
Stay with love.
That fire is still in my night
There are also fires that I saw as a child. I was a little older then. I think that's the year I started college. We live in a big house now. We had a friend named Laila. Laila with blonde, glittering eyes. When I saw many years later, Laila has become very beautiful. Their house is on the street behind us. Again, in the middle of the night, the children were shouting in the street, 'There is a fire.' We immediately threw ourselves into the street. There was a crowd in front of the house. When we left, they kicked Laila out of the house. Her parents were out, but their grandmother was still at home. The sound of fire brigade could be heard from a distance but he could not come by himself. Laila stood frozen, staring at the burning room, her face blackened by the smoke. No words, no reactions. Then someone brought a wet blanket. Out of the crowd, two young men wrapped themselves in wet blankets and entered.
They were black
There were voices from the crowd, young men shouting that they too would be burned, some sprinkling water on the house with hose, some carrying buckets of water, and some running to fetch wet sheets from their homes. When the fire brigade arrived, the young men were about to take their grandmother out the door. Those who have left the house have black hair and smoke. They wrapped all those who came out together in white wet sheets, one of them sprinkled water on them with hose, the others covered the wounded with dry blankets.
Taxis are available
At that time ambulance would not come easily in such a situation. He did not come that day. Not everyone had a car. Taxi drivers around the corner had already taken control of the situation, dragging their cars to nearby places to wait. Many young people have been burned. Grandma's condition is critical. Already the hair on the bedridden woman's head was completely burned, her eyes swollen from their coats in fear, but she was not even in the mood to scream or cry. The mob put each of them in a taxi, then the people whose house caught fire.
The girls of the neighborhood then gathered around Laila. The girl looked at us and started crying. Neighbors have already taken the parents to their home. The fire was extinguished before it spread, but no houses remained, and a black skeleton terrified the audience.
It affects people
For days, that fire did not leave our eyes. I don't know if you've ever seen a fire. However, at this time, many people in our country have seen a great fire that they will never forget. The fire is so fascinating to watch from so close. The rapid rise of flames as if they want to burn the sky, turning from yellow to pink, orange, red and sometimes black, as if there is a scary sound like burning the sky, the constant pouring of black things. Up and down, a cloud of black dust all around, the ink that burns not only your nose but also your heart. Smell …
If I still have nightmares, there must be signs of that fire in him.