Behet Dalmaz – Orhan Asan / Van, (DHA)
Ğiğdem Ergin (23), a mother of two who was first strangled to death by her husband, with whom she had an argument about 5 months ago, and then thrown from the 3rd floor of the building, was bedridden. Sigdam Ergin, who said she was released after her husband Sinan Ergin, 32, said she tried to commit suicide, was included in the indictment, where she said she was thrown off the porch while in the intensive care unit, her eyebrows and eyes. With answers to police questions. RAE, Sigdam Ergin's 5-year-old daughter, who said she was paralyzed and wanted justice, said in a statement that reflected the allegations, her father took her mother in his arms and threw her. From the balcony
class = "medianet-inline-adv">
Ğiğdem Ergin, who has 2 daughters, one 1 and the other 5 years old, lives in Selahatin Yubi district of Van Adremit district, allegedly fell from the 3rd floor on April 24 and was seriously injured. His wife, Sinan Ergin, who was taken into police custody after the incident, was referred to court after her statement and was released on condition of judicial control. Ergin's testimony states that his wife attempted suicide. Sigdam Ergin, who is being treated in the intensive care unit at Van Yujunku Il University Research Hospital, first answered questions with her eyebrows and eyes, telling police she had not attempted suicide, but had thrown her husband Sinan Ergin off the porch. , And later gave an oral statement.
In a statement, the Van Chief Public Prosecutor's Office launched an investigation into the incident against Sinan Engine. A lawsuit filed by the 6th High Criminal Court against Sinan Ergin, who was released on judicial control, was sentenced to 20 years in prison for "attempting to kill his wife intentionally." The indictment alleges that the suspect was punished by the relevant referral clause for strangling his wife, with whom he had an argument, lost consciousness, and was taken to his home. Weapons and threw him from the porch.
class = "medianet-inline-adv">
'We got married when we were 18'
Sigdam Ergin, who said she was thrown off the porch and laid in bed, spoke of the violence her husband had inflicted on her. Sigdam Ergin says that during her 6 years of marriage, both her husband and her family continued to inflict emotional violence on her. Ergin said, "We got married voluntarily when I was 16. I have two children now. It happened on April 24. It was my youngest daughter's birthday. I also went to my wife's grocery store. When I went there, they were a woman." I also spent the month of Ramadan. He said: "Why don't you fast?" Then he said something that hurt my pride in the presence of women. My pride as a woman. I got hurt there. I went home without buying cake. , He said.
Horrific murder in Sanliurfa: Tartisic suffocates his wife to death
'Neighbor opens door'
Sigdam Ergin, who said the neighbor downstairs was also a plaintiff, said, "Because they opened the door for him. He didn't have binoculars because it was an old building. You can't see who comes and goes. When I opened the door, that The man came in very angry and angry. I said, 'No, what happened to you?' She told me that you are a very helpless woman and I was subjected to a lot of emotional violence. Then she started physically abusing me. I was beaten in my right eye. I also have a report about this. I went to call my father. My father did not answer. Then I called the police. I said, 'Save me, I am the victim of physical abuse at the moment. When he heard this, he became mad. "How can you call?"
class = "medianet-inline-adv">
'You have committed suicide'
"When I regained consciousness, I said, 'What am I doing here,' you said. You committed suicide. I said, 'I didn't commit suicide. He threw me off the third floor of the building.' The wife tells everyone that I have committed suicide. "I have lost my consciousness and consciousness. They made me, they put me in bed. I can't lift my arms. When I am a healthy person, it is very difficult not to be able to raise my hand or walk, "he said.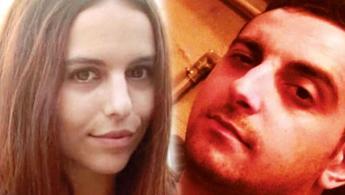 He asked the authorities for help! Her screams were heard
'Justice will find its place after death'
Explaining that her husband had verbally abused her in front of her daughters, Ergin said, "She repeatedly did this violence in front of my daughters. Even my eldest daughter said, 'Mom, don't shut up, talk.' They say, 'If we were criminals, We'll be in jail. "Will there be a trial after I die, or when news of my death spreads across Turkey? The case was a suicide attempt before. Her statement was taken with her. My daughter saw it all. I hope she didn't see it. He has not been arrested yet. The accused has been released on condition of judicial control. I am calling the prosecutor and the judge. What kind of conscience accepts? " Says
class = "medianet-inline-adv">
'I was hospitalized for 3.5 months'
He wants justice, which is now in his father's house, Ergin said, adding that "he should be arrested, he should be tried. I was hospitalized for 3.5 months. I was in a coma for a month. I was. Then his family said that if I didn't show the children they would bleed. Are you going to bleed? You already left me half dead. I can take it, but now I can't walk, I can't eat, I can't change my clothes, what's the use of surviving? Now I am paralyzed. " No matter, they should seek their rights. "
class = "medianet-inline-adv">
'Don't be a father, I love my mother very much'
Witnessing her parents' argument, the 5-year-old RAE also told the family support specialist what had happened. RAE's statement, which reflected the allegations, revealed that while her mother was playing games on her phone in the hall, an argument broke out between her mother and father, who shouted "Take me out of this house", and her father He took his mother in his arms and threw her down. The allegation was that the little girl told her father, 'Don't be a father, I love my mother very much'.
Expressed by eyes and eyebrows
The indictment states that Sigdam Ergin made his first statement while he was being treated in the intensive care unit. The indictment also reflected that Ergin was shot while in the intensive care unit in the presence of a doctor on duty to cover the incident and that he could not answer questions because he could not. He closed his eyes saying "yes" and frowned "no" but was aware. Officers asked Ergin, "Did your husband push you off the porch?" "Yes," he said, closing his eyes and asking, "Did you go to the porch of your own free will?" He took part in the complaint where he raised his eyebrows and answered "no" to the question.