Mine Senocakli
minesenocakli@gmail.com
A.I hope you remember, there was an honor! At the age of 14, he dropped out of school and worked in a cafe to support his family … his father was unemployed, his mother was ill … his sister could not even study, and he started working in a textile workshop here at a young age. Now 17 years old and still working. Do you work, but do you get paid? Rent, bills, food? That's why Izget left school and just found a job. Just before the New Year when I asked her about her wishes, "If my dad gets a job, if my mom is good, I'll go to school again. Then life will be much better. "
Ezget returns to school, however.
The news made a lot of noise, but unfortunately Izet was unemployed. Fortunately, a benefactor held Izzet's hand. Currently, Ezet is going to be admitted to a school near their home in Cookpazar. I don't know if we can say that at least he was alive, he would study, when so many university graduates are unemployed. But this is a very important opportunity, seeing the depth of poverty in this country, I know it … because I have learned that 155,938 children like Ezet had to drop out of school last year. Either because his family couldn't send him to school, or worse, because he had to work and take care of his family. And for three cents …
Even the cheapest wafers became a dream
Let me remind you of last week's news. "Now 2 lira rice and 5 lira lentils are written in the credit book," we said. Grocers reported that at least 50 children entered the store every day, and even 10 did not. Most of these 10 children were sent to buy basic foods like bread, yogurt and eggs because their parents were too embarrassed to give them credit. Now, even cheap biscuits, wafers, have become a dream for many children. But not being able to go to school, the real dream was shattered!
Faced with this harsh reality, we made an appointment with my former colleague Hacer Foggo, founder of the Deep Poverty Network, who has been fighting day and night to alleviate some of this nightmare. We have learned that despite the efforts of hundreds of volunteers and thousands of supporters, they can only pull a small barrier to this flood of poverty. But fortunately they exist … if it weren't for them and others like them, thousands of people would face this awful poverty alone … the term Hacer Foggo …
A baby cries: I'm tired of living!
You are always on the field, you are fighting poverty from Sulukulu. Have you ever faced such a difficult situation?
No, I have never faced such a situation. The shutdown began on March 11, and three days later, people started shouting, "We have no food to feed our baby, we have no supplies to boil the pot" … Kukukbakkalki, Kagithane, Çekmeköy, Kustepe, everywhere. .. In just three days, there was nothing to eat at home and we were suddenly confronted with people starving from poverty. Most of these people were waiters, porters, construction workers, paper collectors, day laborers, florists. After the shutdown, they all became unemployed … Three months later, we conducted a survey of 103 families to see how dire the situation was. 74 percent of households did not have access to food and diapers and 57 percent did not have access to distance education.
What to do now?
Poverty is even worse now. There was hope at the beginning of the epidemic, now there is no hope. "The shutdown will end, we will go out and everything will be fine. We are in debt, but we can pay our debts, "people were saying. But now the situation is reversed. Debt has multiplied. In that first term, they took loans from state banks, but they could not repay them. All the houses have been closed. Many families are living in homes without electricity because of the bill. Food prices have risen. For example, they no longer have a way to buy diapers. It costs at least 150-160 lira per month. After all, we are talking about people who earn 50-60 lira per day and try to survive. Poverty deepens with the decision of the Istanbul Governor's Office to collect documents. Conflict within the family, violence, children dropping out of school, working with their parents has increased.
What are they looking for most?
They are looking for food aid. Then, call those who can't pay their rent and electricity bills. Hundreds of calls come in every day. Let me play you a voicemail. Here is what a 16-year-old boy whose father died in an accident had to say: "Please come back to me, Sister Haser … I've never felt father's affection … I've never seen a computer … Sometimes I go for a walk with my cousins. I look at the phone in their hands, I don't have it, so I miss the smile… I haven't had anything so far. My clothes, whatever he's giving. Help me smile sister! Otherwise I will go to child protection center. No one cares about me … We are all human. I pray five times a day … Come back to me, please, let me love your eyes, sister smile I'm too tired to survive … "
(We were silent for a while …) You must have gone back and talked. What happened then?
Neighbors lost their father and began to help. She wants a cell phone and clothes. Two years ago, this boy would not have been so hopeless. The mother is therefore unable to deal with the child's psychology. Why? Because he's locked in the house, how can I rent, bring food …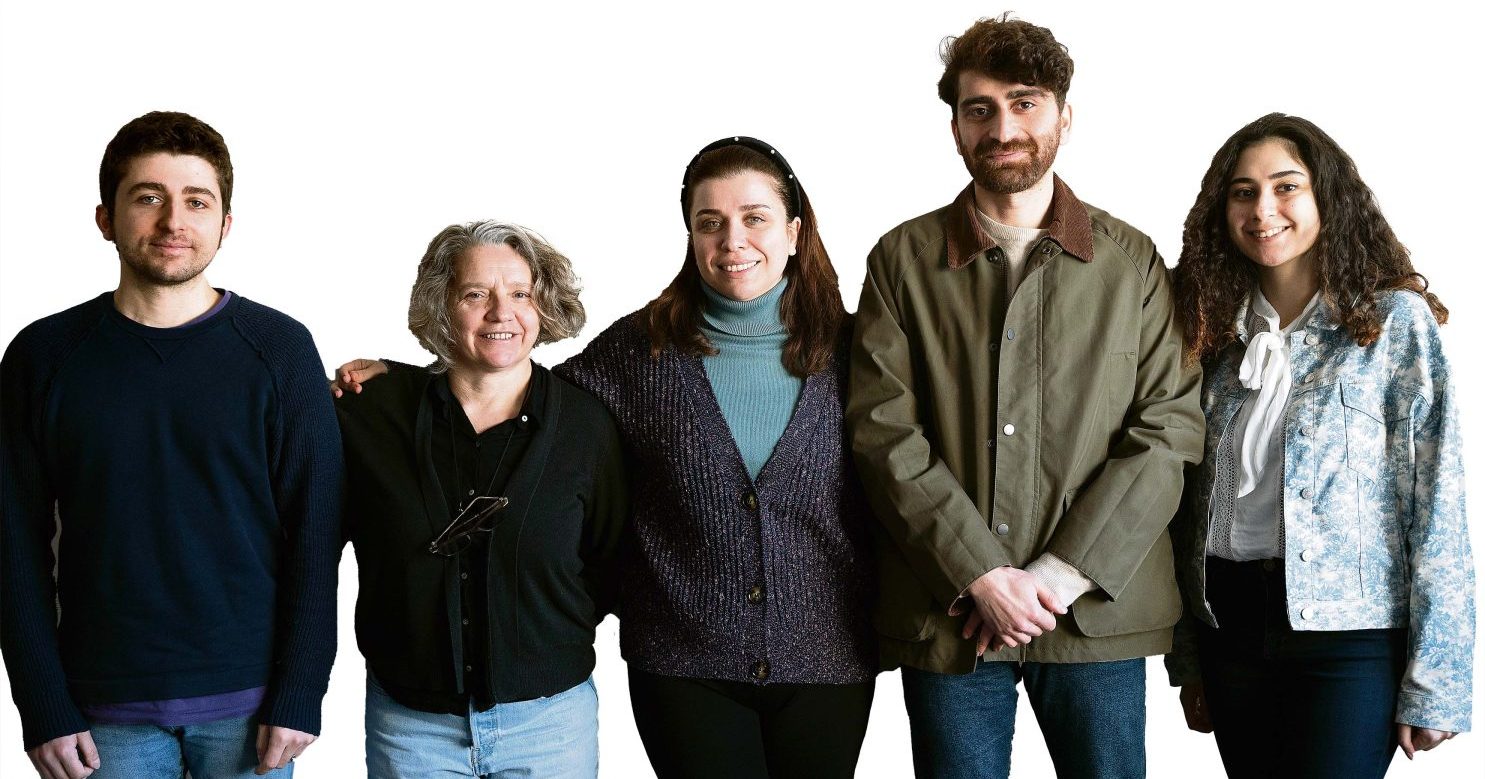 There is an incredible loneliness and frustration
How many children does he have?
There is a child and an old grandmother in the house. But they have to pay the rent. There are so many families … In another family, the child stutters because of problems… the father was seriously ill, he was fired করা the young men now feel abandoned. They are in an incredible loneliness and despair. Children are the most affected in this situation. Children are vulnerable. Where do they have to go? To whom should they seek help?
Even children do not know how to ask for help …
At the same time, mothers are also very vulnerable. Because lack of food and starvation ruin everything very badly.
I was talking at a grocery store last week. A young mother entered. "I was going to buy a box of milk, I forgot to take money with me. Can I give it to you tomorrow? "He said in a shy voice …" Of course, my daughter, "said the grocer, he quietly took it away. The parents could not even pay 1 lira pocket money, so the children could not enter the grocery store.
Unfortunately it … I saw it in a market last year. Dad buys bread and eggs, when candy, wafers or something is placed in front of the cash register, the child takes a lollipop in his hand, looks at it and returns it without asking his father … Unfortunately, the children are most affected by the epidemic and poverty now The epidemic is much more severe than the first. . To be with these children, they need to be touched.
You say children are dropping out of school. Do you have information to support this?
At the beginning of the epidemic we interviewed 103 poor families, 13 percent of children said they would not go to school at the new time. A study we conducted in 135 households in 2021 found that 21.8 percent of school-aged 7-16 year olds no longer attend school. Nutrition itself is a reason for dropping out of school. Children who drop out of school and start working can no longer go back to school. Therefore, school attendance is now at a critical stage.
There is a survey of education reform initiatives. The net enrollment rate of children born in 2006 at the age of 13 was 98.5 per cent in 2019-2020, while the same children dropped their school enrollment rate at 96.3 per cent in 2020-2021 at the age of 14 years. And there are many more important personalities. According to the first intermediate report of the 2020-2021 academic year, 155,938 students dropped out of school. Where are these kids now? Why are they leaving school?
It's a pity that a mother can't find a loaf of bread to put in her child's lunchbox …
"What are you doing at lunch?" When we ask them, they say, "Sometimes the teacher gives something and gives something to eat or I teach." So they somehow disappeared. It's a huge emotional burden for that child. Children who drop out of school are used as cheap labor in the industry. It is very worrying that a 12-13 year old child is a child laborer. The biggest problem is that the Ministry of National Education does not share the literacy rate transparently. The number of school dropouts could be much higher.
Children are used as cheap labor
So what should be done urgently for these children?
"Where are these kids?" Shouldn't he be asked? Are they waiting for the kids to write a report after something happens? Are they going to write that so many children are hungry, so many children are depressed, so many children are in prison? Are children just a number? Across Turkey, children live in poverty and are used as cheap labor. All these children have to be sent back to school. Because what we call this shifting poverty begins with school dropouts. In other words, children inherit this poverty and pass it on to their own children.
Baby

The fear of being stuck in his food became a symbol
What hit you the hardest during the epidemic?
If you ask me what was the picture of the epidemic period, I will tell you the alarms attached to the food. Because a mother is trying to deliver food for her baby and you are holding it back. However, that baby, that mother has the right to that food. It is a human right, a right to life.
People who ask you for help say, "Don't send expensive food, what happens, baby will not eat anything when he eats" …
Unfortunately … even this is proof of how deep poverty is in Turkey. The agenda is constantly changing in the country, in fact there is only one agenda, poverty, poverty, deprivation.
Oxygen Note:
As we prepare this article, the 2021 Education Assessment Report has been announced by the Turkish Education Association. According to the report, 6,000 children were out of the education system in the 2020-2021 academic year. In other words, 676,000 children aged 6-17 did not go to school. Hacer Foggo says 155,938 children dropped out of school at the same time.