Northern Alberta First Nation Chief Sidney Halcro announced at a press conference that they had found 169 children's graves on the site of a former church boarding school while working with underground scanning radar and a drone.
"Our little warriors waited for us to find them," Halcro said. Now we will make sure that they are resting in peace. It is incomprehensible to find so many tombs, when one finds too many tombs. "
Graves of 169 children, st. St. Bernard's boarding school was found on a small plot of land.
[Grafik: TRT Haber]
"No one was blamed for their deaths."
Kisha Supernant, director of the Institute of Indigenous Archeology at the University of Alberta, who conducted the work, noted that 54 graves are located next to Nanari, while the remaining 115 are found in community cemeteries.
"Each of these children was a favorite part of a family and no one was blamed for their deaths," the superintendent said. Says
Opened in 1894 by the Roman Catholic Church and operated until 1961, St. Bernard's Boarding School is also known in some records as Groundward Boarding School.
Two more places will be searched.
In the meantime, two more searches will be conducted in the Kapawe'no First Nation area near the grave site.
Arthur Nosky, Grand Chief of Treaty 8, announced that the searches would include the location of an Anglican church and another site where local officials were stationed.
Nosky said, "It's like this wound will never heal. It opens again and again. When you think it will heal, it splits again. But it's important for the world to see that these institutions are not schools. And without the answer, there There is no cure. The truth must come before the reunion begins. I hope the children we have found can be relieved that they have found them now. " Used phrases.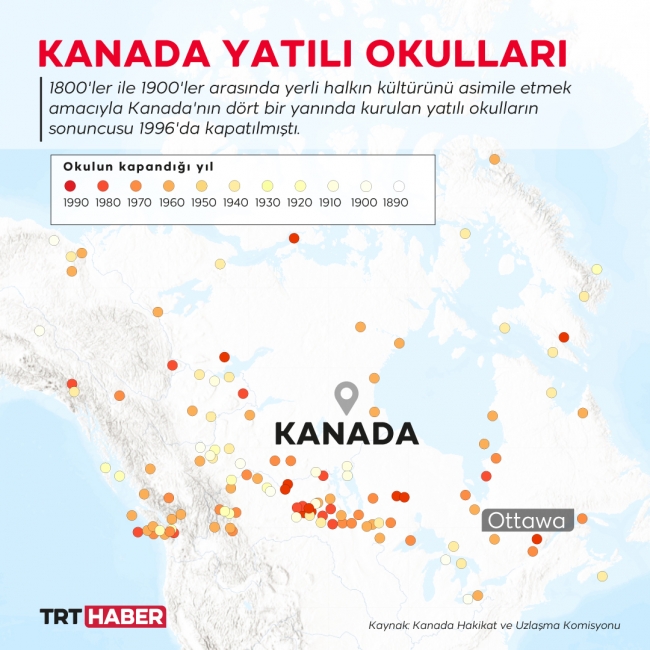 [Grafik: TRT Haber]
The first tombs were discovered in the summer of 2021.
The graves of unregistered children in Canada's Old Boarding Church School Garden were unearthed for the first time on May 29, 2021, with the remains of 215 children in a school garden in Kamloops, British Columbia.
After a preliminary search, searches began in old boarding school areas across the country, and on June 24, 2021, graves with the remains of 751 children's bodies were found in the garden of the state's Mariwal Boarding School, which was not officially recorded. Saskatchewan.
In the province of British Columbia, formerly St.. On June 30, 2021, an undeclared grave containing the remains of 182 children was discovered near Eugene Mission School.
An indigenous tribe of Penelakut in the southern Gulf Islands of the same state also announced on July 12, 2021 that more than 160 "unregistered and unmarked" graves had been found in the area belonging to the Cooper boarding school.
St. Williams Lake First Nation in British Columbia. Teams scanning 14 hectares of the 470-hectare area of ​​Joseph's Mission Boarding Church School with Surface Radar have announced that 93 new graves have been discovered.
In Canada, 54 new graves were discovered during a ground-penetrating radar scan at two former church boarding school sites in Keeseekose First Nation, Saskatchewan.
The worst child abuse in Canadian history
The first of the church boarding schools, considered one of the "greatest places of child abuse in Canadian history", opened in the early 1880s and closed in 1996.
In these schools, where more than 150,000 local children were forcibly taken from their families and settled, most of these children were subjected to physical, sexual and emotional violence by priests, nuns and other teachers.
In addition to the abuse recorded by the Truth and Reconciliation Commission established in the country in 2010, it was determined that some children underwent medical examinations.
The Canadian federal government has formally apologized to victims for what happened at the boarding church school, where thousands of children died of starvation, cold and disease.