Treasury and Finance Minister Nureddin Nebati, in his speech at the Independent Iftarists and Businessmen's Association (MUSIAD) traditional Iftar program, said MUSIAD, which he described as a school, was the most important historical center in recent times.
Referring to MUSIAD's performance overlapping with Turkey's performance and areas of struggle in recent years, Nebati said the country knows how to overcome the problems it faced in the 1990s and early 2000s and has proven outstanding in the last 20 years. Acquisition.
Nebati noted that there is no problem that cannot be solved if we face the problem and work with unity and solidarity and draw attention to the successful performance of Turkey during the Kovid-19 epidemic.
Noting that Turkey has grown successfully despite all the negative comments made during the epidemic process, Nebati spoke of the growth performance of 2020 and 2021.
Nebati said that despite all the negative discussions and complaints, deterioration in the global supply chain and problems, Turkey is growing. He noted that exports have reached $ 225 billion.
"Trade will return, factories will run, business will run"
Minister Nebati said there were still some difficulties, but that Turkey would continue on its path successfully and would continue as follows:
"The war came, it broke, the balance was upset. The world was beginning to feel a deja vu in the transportation of wheat, steel and goods. This country continues on its path. We do not close our eyes and ignore the hardships. There are difficulties, there are problems, we see inflation. Our struggle is clear, we know what to do. We want to join arms, give morale, all kinds. Overcoming difficulties. Feeling and feeling that we will overcome. Trade will return, factories will run, things will continue. Our workers will go to work. Don't worry, there is always ease in every difficulty. Believers know it. Let's do the job well. Let's trust each other. Let's be one, let's be together.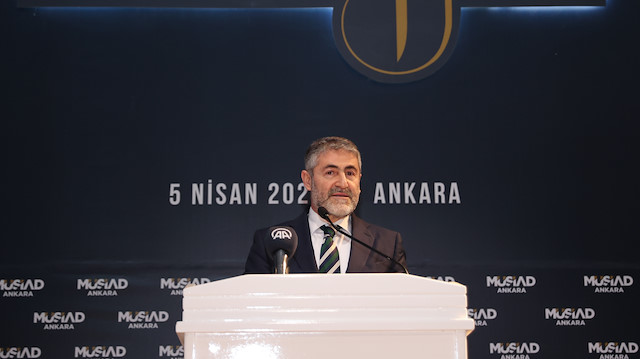 "We know what young people, women and children want."
Nabati, Treasury and finance minister, says the 21st century is Turkey's century, and they are in a global crisis, and although the effects of the epidemic have diminished, serious problems continue to be felt in supply, oil prices, and commodity prices, and rising prices everywhere.
"They know the market price," Nebati said. "We live in this country. We live on the streets, in the streets, in the markets, at the tables. We take buses and minibuses, don't worry. We are not isolated from this world. We are in this world, in this country. We know the youth, the women of this nation. , What children, the business world and employees want and we know what their problems are. We have to do that. " He said.
Minister Nabati on inflation, "Starting in December, we will see how inflation in this country goes down every month and we will walk together. The situation will get better." Evaluated her.
AK Party Deputy Chairman Numan Kurtulmus and Istanbul Chamber of Commerce (ITO) President Shekib Avdajik also took part in the fast-paced dinner.