In Balikesi, 16 years ago, a decision was made to kill their cousins ​​Bura and Tuge, leaving their home to go to school. The accused in the case, SA and A, have been sentenced to life imprisonment.
In the March 23, 2006 murder of cousins ​​Bura and Tuge, who had left their home to go to school in Balikesi's Savastep district, the arrested defendants SA and AA were each sentenced to two years in prison, while YE and A.A. He was acquitted.
A decision was taken in the case heard yesterday in the first high criminal court of Balikesi. In the case of the murders of two cousins, Tuğçe and Büşra, two increasing life sentences were imposed for each of the detainees, but this sentence was later commuted to two life sentences due to the reduction in good behavior. The family of the murdered cousin has reacted before the court after acquitting the other two accused. After the hearing, the bereaved mothers spent a bad time in the court yard.
Lawyer Ibrahim Erensi, who has been following the case of Savastep's cousins ​​since day one, made the statement after the hearing. Noting that the detainees were happy with the life sentence, lawyer Erensi said they would appeal to the high court about the acquitted defendants.
Attorney Erensey: "We have proved the connection of the account with the incident."
Cousins ​​lawyer Ibrahim Erensi said in a statement:
"First of all, four accused were on trial. 2 of them have been imprisoned in these 4 years. The other two were on trial. At almost every hearing, we declare that pending suspects should also be arrested, they are in agreement of opinion and action, they rented the same house, worked together, that they all spread out like a swarm on the date of the incident. , March 21, 2006, went missing in Izmir and at the insistence of a landlord, 2 accused returned and vacated the house and vacated the house. We have presented dozens of pieces of evidence that they have multiple SIM cards and multiple phones and they have inserted them into one IMEI number, another SIM card and another SIM card and they are preparing to work, so they are working together. And they should be punished. We just didn't say that. In our prosecutor's opinion, our prosecutor gave an opinion that all the defendants agreed and acted in the last hearing and all four of them should be given two complex life sentences. In other words, it is not a decision we make emotionally as a victim attorney. Or not a request. Our prosecutor, who assessed the incident with a cold head, said in his opinion that, as we have said, all the accused should be punished.
"Deprived convicts get life, others get it"
"However, in line with our expectations, in line with our expectations today, the court sentenced two defendants to two complex life sentences. For only two defendants, YE and A.Ç. were acquitted." Since there was no evidence, they made such a decision. What's even more interesting is that we found it weird. I can clearly express that we find it weird. Why don't you rely on any article of law, any law of criminal procedure. The reason for the dismissal was that the allegations and opinions that the children had been detained with more than one person were time-bound. Its cutting, its exclusion is not acceptable to us. This means this. More specifically, the investigation took a long time. Yes, it took 11 and a half years. The investigation took a long time. As a result of a lengthy investigation, we have only been able to reach the suspects. We have accepted the complaint. However, the law of limitation has expired during this period. "We do not want imprisonment for keeping children in custody," the court said. More interestingly, YE and A.Ç. In its decision, the court also upheld the right to sue without any impediment to the right to compensation. There is not much to say. Am I dissatisfied with the point I reached after 16 years? No. The two exciting life sentences given to us and our families, even a little, give us water in our hearts. However, the acquittal of the other two defendants, which is clear enough to leave no room for doubt that they worked together, and as if that was not enough, the trial stages are not over yet, the Regional Court of Appeals said. Although not decided, it has been sent abroad. We also consider it very strange that the lifting of the travel ban was lifted. "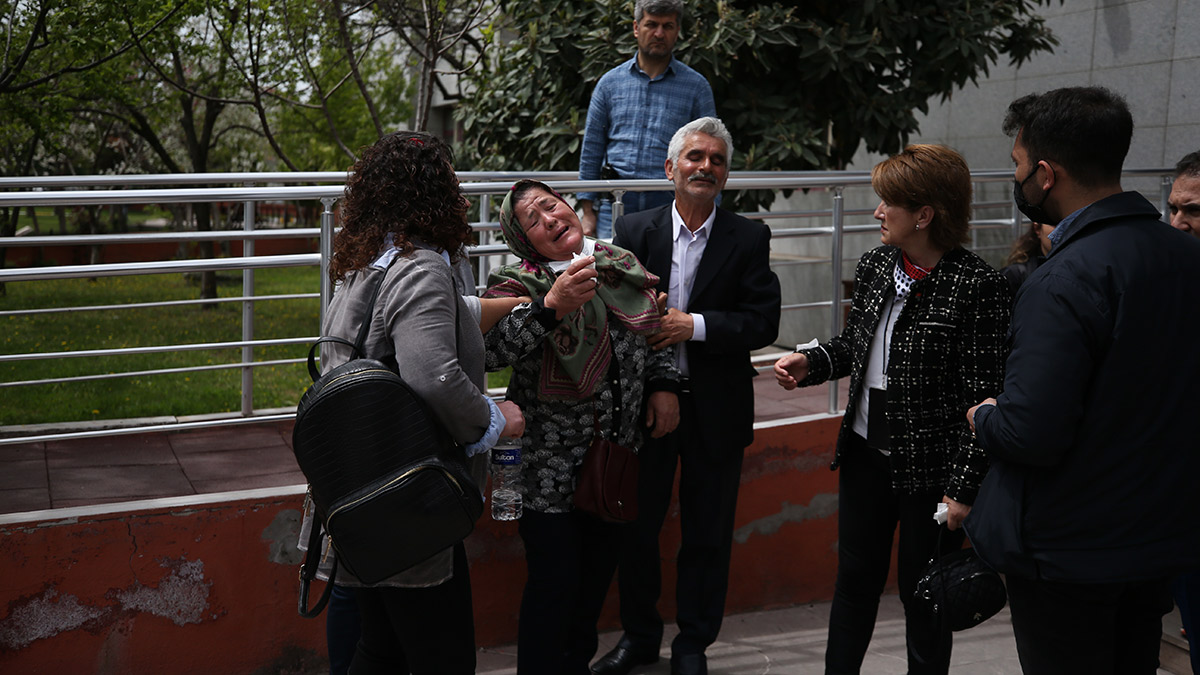 "Crime fixed"
Attorney Ibrahim Erensi, who also provided information on the crimes committed by the suspects who were convicted of killing cousins ​​Tuge and Bura, said: Detaining them, raping them or making them accustomed to sexual intercourse (say these children do not have a tongue) in prostitution. Since there is no confession in this regard, we do not have any specific evidence, it is clear that children have been abducted with specific evidence. Fixed using a vehicle. In other words, the fact that 2 children are 7 kilometers away from home proves to us that their bodies did not go on foot. They also use their vehicles regularly. Therefore, it is clear that they acted with more than one person, but then the children responded. 'I will tell my father, I will complain to the police' etc. I call them murderers. They did not find any knives, axes, nails or ropes suitable for killing people. It was decided that the children would take off their apron belts and tie them together to form a rope and thus slaughter them. It is fixed with forensic medicine report. Therefore, even if there is no intent to kill at the outset of the act, if they do not make a statement or acknowledge that they are in unity, consensus and action regarding the detention of the planned and programmed children and the unity of opinion and action continues We don't remember the incident. We weren't there then. I don't know if the phone is mine. They make abstract statements like 'I don't know people'.
Ayesh Yildirim: "We want people to be punished"
Speaking after the court hearing, Tuge Yildirim's mother, Aye Yildirim, demanded that those acquitted should also be punished. Yildirim said: "We want YE and A.I to be punished. A woman named Y. cheated on my children. He handed it over to the bastards. Our children have been on the ground for 16 years. These were also seven drinks. We want them to be punished. The law must be on our side. Then there will be a trial. The woman picked up my child from the street and took him to the people, "he said.
History of events
The bodies of Bura Karabakak and Tuge Yildirim, who went missing on their way to school on March 21, 2006, were found wrapped in a bag in a culvert near Chamurlu district 44 days later, on their way to school in the rural Karakala district of Savstep district. After 11 years on suspicion of murdering Karabakak and Yildirim, SY, AY, YE, A.Ç. They were arrested in Izmir on September 8, 2017, the suspects were arrested by the court that brought them, and they were released on October 21, 2017 because the DNA samples taken from the children's fingernails did not match. Two of the suspects, who were released after family objections and DNA samples were sent to another institution, were re-arrested at a June 8 hearing.