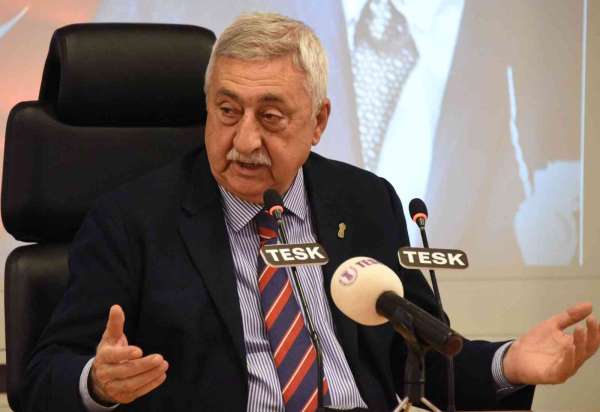 Bendevi Palandoken, president of the Turkish Confederation of Businessmen and Artisans (TESK), said: "Traders and artisans are the foundation of trade and economy. However, today, the number of young people who choose to be businessmen and artisans and the tendency to practice their father's profession is decreasing. The deep-rooted understanding of trade that has been going on for 50, 60, 100 years is about to come to an end, 'he said.
TESK Chairman Bendevi Palandoken stressed in a statement that children of business and artisan fathers do not continue their careers. The children of businessmen and artisans are not in favor of their father's profession and many professions are beginning to disappear, "said Palandoken." The foundation of trade and economy is traders and artisans. Trends are declining. The deep-rooted notion of 50-60, 100-year-old trade is coming to an end because of unfair competition in business form and profit situation, unfortunately, they do not practice their father's profession No. It is so terrible that in almost 2.5 million workplaces, and in all of them, when the children of artisans or commercial people finish their schooling, they will work with their fathers without waiting for a job from the state, contribute to employment and look to expand their business. Today, instead of learning a craft from a family and pursuing a career, the idea of ​​'entering a government office' has spread.
Noting that businessmen are the building blocks of the economy and there are more than 100 occupations that are on the verge of extinction today, Palandoken said, "In the past, practicing father's profession was considered sacred. The term "continuing father's work" is almost completely forgotten. The barber says I no longer work for my father because my father is too tired. In private jobs like making and sensitive and capital jobs, people no longer like their father's profession. "I can only work with someone else. Looking at the number of shops open and closed in the life of a businessman opens a workplace, but it lasts a maximum of 2-3 years," he said. A cement shop opens and you see it closing after 6 months. Therefore, it is difficult for qualified workers to learn the craft described by the master, even in the real employment-oriented industries, where a Repair and furnishing materials are no longer available, apprentices in industries are no longer available. Because our children, who are no longer able to work under the pressure of their father's profession, are now clerks in front of others, or engaged in other work. Or looking for a job in a government office while continuing his education. You know, since there are limited jobs, many of them join the army of the unemployed, as we have seen. However, those who truly practice and develop their father's profession can sustain that business for 80 years. Today, in many professions, fans cannot find an apprentice to train them. As the father's career continued, it dropped from 11 percent in the industrial sector to 13 percent in the commercial sector. However, leaving the father's job increases unemployment. Today, children who do not see a future in their father's profession, unfortunately, are not inclined towards these professions, 'he said.
Noting that vocational high school education models should be more centralized than the Ahi-Order tradition, Palandoken said, "When we move away from the manufacturing sector, the economy also falters. For example, the number of farmers decreases from 1 million to 493 thousand per year." When a farmer's child sees that his father cannot get what he wants from production, he either goes to the big city or studies and tries to become a government employee. Unfair competition in trade also reduces the demand of traders. Factors that negatively affect traders should be eliminated. Being a trader should be made more attractive to increase the tendency. Educational models should be organized and developed.