From the Rector of Kutahya Health Sciences University:
Based on the KPSS (B) group score ranking, in accordance with paragraph 4 (b) of section 4 of the Civil Servants Act No. 657, a total of 13 contract employees (4 / B) will be recruited for the following posts to be assigned to the affiliated unit of our university. , Their expenses are covered from special budget.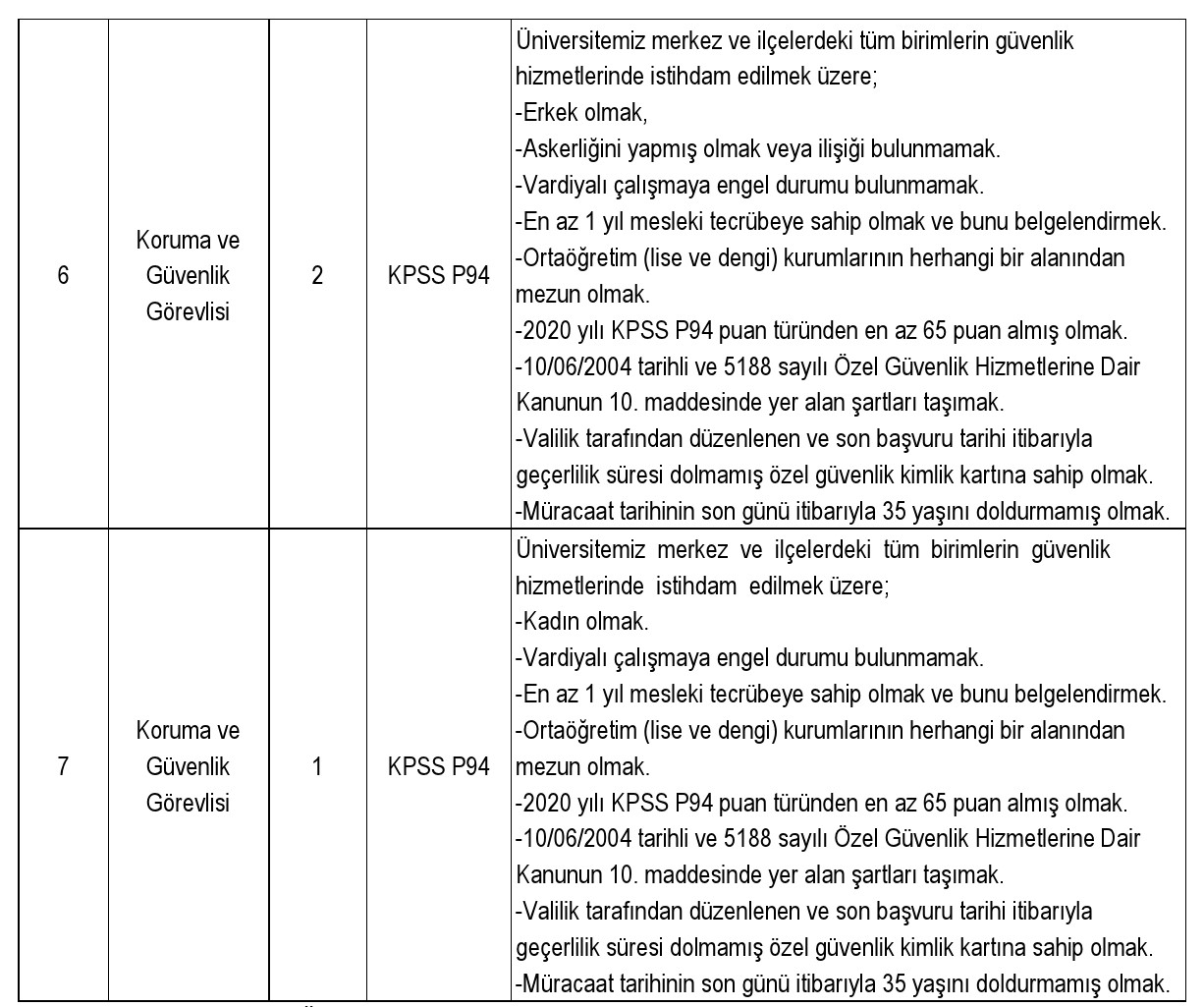 I- General and special terms
1- Becoming a citizen of the Republic of Turkey,
2- To meet the age requirement in Section 40 of Civil Servants Act No. 657,
3- Not to be deprived of the rights of the people,
4- Even if the period specified in Article 53 of the Turkish Penal Code has expired; Offenses against the security of the state, even a pardon for an intentional offense or imprisonment for one year or more, an offense against a constitutional order and its effectiveness, embezzlement, embezzlement, bribery, theft, forgery, fraud, breach of trust, fraudulent bankruptcy, bid fraud, Not being found guilty of fraud, money laundering, or smuggling.
5- Not having anticipation of the provisions of Section 53 of Act No. 657, not having disability related to mental illness or bodily injury which may prevent him from continuing to perform his duties.
6- Pursuant to Section 4 / B of Civil Servants Act No. 657, those who are appointed on contract basis, if their organization terminates their contract due to breach of their service contract or if they unilaterally terminate the contract from the expiration date except as determined by the decision of the Cabinet. The term of the contract. They will not be able to be employed as contract employees of the organization unless the year has elapsed.
7- Not receiving retirement or old age pension from any social security institution.
8- There are no restrictions on working outside the working hours and on working days as a requirement. (Valid for all titles)
9- Work experience must be after the graduation mentioned in the declaration condition.
10- Candidates can apply for only one of the announced posts and cannot apply for more than one post.
11- A service contract will be made with the candidates, and the contracts of the candidates who do not fulfill the conditions mentioned in the contract will be terminated within 1 (one) month.
12- The special conditions mentioned above and the general conditions mentioned in paragraph 48 of Act No. 657 have been sought for the applicants.
13- 2020 KPSS (B) Group KPSS P3 score will be taken as a basis for graduates.
For Associate Degree Graduates, the 2020 KPSS (B) Group KPSS P93 score will be taken as a basis.
For secondary education graduates, the 2020 KPSS (B) Group KPSS P94 score will be taken as a basis.
14- "Examination regulations for those who will be appointed to public office for the first time" is applied in the applications.
15- Only KPSS does not entitle to the position of contract staff having high score. Candidates who do not meet the general and special conditions mentioned in our declaration will not be evaluated.
16- If the score of the candidates is equal, the candidate with the date of first graduation will be given preference, and if it is equal, the candidate with higher date of birth will be given preference.
17- Dismissal of persons from government service by various decrees may not be applicable.
II- Place and form of application:
Place / address of application:
Kutahya Health Sciences University Rector Personnel Department Tavsanli Yolu 10. km. Evlia Chelebi Campus Kutaha / Center.
Date of application:
It is 15 (fifteen) days from the date of publication in the Official Gazette.
Candidates must submit their application along with the required documents to the Personnel Department of our University in person or by post, by filling up the application form on our University website. Our University will not be responsible for any delays and shortcomings in applications made through mail / cargo.
Documents required for application:
1- KPSS (B) Group Examination Result Document,
2- Application Form, (It will be obtained from our University Website)
3- Copy of Diploma / Temporary Graduation Certificate or e-Government Printout with QR Code
4- Copy of identity card
5- Pictures (1 piece)
6- Military Service Certificate (for male candidates)
7- Certificate of Experience (Certificate of Experience for the desired title and SGK Premium Breakdown)
8- Judicial Registry Record (Documents received through e-Government will be accepted)
9- Personal security officer ID card, valid for security personnel.
10- Explanatory text has been prepared in accordance with Personal Data Protection Act No. 6698 (obtained from our university website).
11- Explicit consent text of the employee candidate has been prepared in accordance with Personal Data Protection Act No. 6698 (to be obtained from our university website).
III- Application evaluation and results:
The list of original and alternative candidates and the required documents related to the eligible candidates will be announced on our university website (www.ksbu.edu.tr). The winning candidates will submit the personally requested documents to the Personnel Department of our University within 15 days of the announcement of their results. Candidates who do not complete and submit the documents within this period will lose their rights.
If there are no applicants among the eligible candidates, or if it is determined that they do not meet the requirements, the replacement candidates will be placed in order keeping in view the success score of the alternative candidates.
Since this announcement will be of the nature of notification, no separate notification will be given.
5834 / 1-1