AYŞEGÜL SÖNMEZ sanatatak@gmail.com
The 5th Mardin biennial, curated by Advait Singh with the theme 'Promise of Grass', is like an uncomfortable tent whose canopy creates shades independent of your steps. This is a temporary structure; The tent, which threatens climate and tourism, stretches from the historic Carpenters Coffeehouse in the town of Mardin to the German headquarters, from Debeli Han to a room in Kumbali Konak, engaging the audience in an uninterrupted, tumultuous, uninterrupted engagement. Thoughtful relationship with the city. The Indian curator Singh envisioned the biennial as a fictional proposition, he wanted us all to look like grass. And he made a promise: a promise to keep us all in the middle of Mesopotamia, a promise of grass. For those who know how to keep their word. For those who want. For those who want to be one with their essence. For those who care more about owning it …
class = "medianet-inline-adv">
5th International Mardin Biennial, Lake where there is no more water, -Khan Al-Ahmar, Aral- Children living in the shelter of an abandoned geothermal factory and studying Hardt and Negro, tribes who cannot take their sheep with them when they migrate -Iran- Jordanian farmers are forced to write 94 million-year-old fossils instead of songs sung by a Tibetan monk in prison. Geographical, Boundary, Sociological, Anthropological, Environmental Division, just as the name of the Rakhi Peswani installation has been specially produced for the Mardin biennial, it has many 'metaphors' for 'love, labor, loss'. It's like an uncomfortable tent whose canopy creates shades independent of your steps. This is a temporary structure; The risky tent for climate and tourism extends from the historic Carpenters Coffeehouse in the town of Mardin to the German headquarters, Debele Han, to a room in Kumbali Konak, engaging the visitor in an uninterrupted, hassle-free, thoughtful manner. Relationship with the city.
class = "medianet-inline-adv">
Rakhi Peswani
However, if you are accustomed to the neo-liberal biennial structure where blue-chip galleries look like drones for multinational sponsors, such relationships can be thoughtful and difficult to enter.
For example, you may be wondering who gave the biennial money, run by Don Othiam and Hakan Irmak, or where the works that were constantly blowing due to the wind are located.
Instead of looking at things and getting an idea, you can be more rude than a Russian oligarch, pull a jacket from an authorized person and say 'say' to that person in a compulsive mood.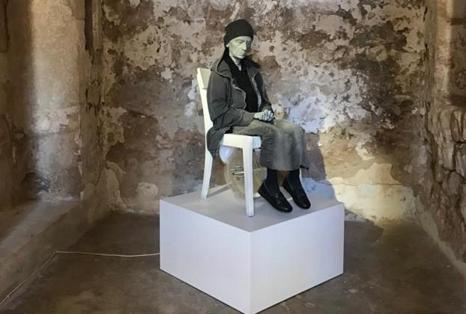 Server Demirtas
Even after saying these things, you can do the following: If you follow the commander of the statue of Server Demirtas. He even wants to 'occupy' it. You want to decide when the most fragile, lonely, dynamic elder of the biennial will scream, just as you know how long your tour with Moore Gabriel will last.
Advait Singh, a young curator of the 5th Mardin biennial designed in the shadow of the Kovid-19 epidemic, living and working in New Delhi, India, designed the biennial as a fictional proposition: 'Promise of Grass'.
He wanted our privatized water, our air, our political and physical features, to unite our homogenous identities without falling into the new business fetishism of 2022 and to force neoliberalism called globalization to live / kill under a single unity. With this desire, he wanted to see us all as grass. From Mardin to his team, himself, his artists and spectators. And he made a promise: the promise of grass. And perhaps he signed the Mardin biennial, which contains the name of the most poetic work to date. As in the case of Rakhi Peswani. Like Neda Saeed …
Our multi-cell joint history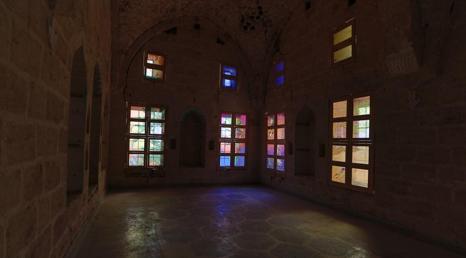 Neda Saeed
In her stained glass series, entitled 'Only the highest flying bird can break glass', Neda found the toxic waste from a sugar factory in Daveli Han where camels once lived.
Namdol Lhamo, a Tibetan monk who was imprisoned for 12 years because the song they sang in their cell pierced the prison walls, living in Belgium with endless emptiness. The song they sang in prison, "Although hail and frost can defeat us, our crossed arms will not be separated" reached the "safety net" that Fatos Irwin made from the hair of his friends in Diyarbakir prison. Lamo feels today that the void in his cannonball could be filled.
The hard or soft, handmade, touching and sensitive objects created for the biennial by Lara Ogel and Sibel Horada continue the moving metaphors with their personal solitude by Peswani, as if singing from where they left off.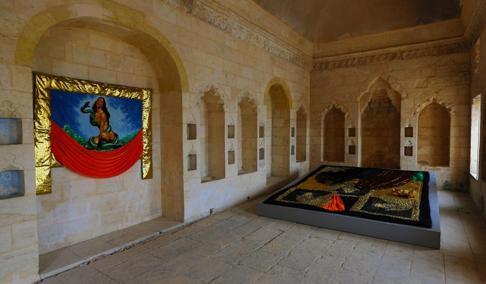 Gulson Karamustafa
Gulsun Karamustafar Carpet with a Panther and Christ, his sad companion, a mat of holy prayer for those who want to make Mardin's biennial experience more than a tourist and for those who fight for it.
While emphasizing that we have a multicellular joint history with Deniz Üster and Burcu Yağcıoğlu's collaborative work 'Homo Scylla', Jonas Stall's film is specially made for the biennial where he denies capitalism, neo-liberalism and the Amazon our 94 Million. Biota with history. The scientific, aesthetic, and sociological sections present us with new images for rejection.
Added to this is the series where Almagul Menlibeva rewrote the history of what happened during the protests in Kazakhstan, known as the 'January Tragedy', with the help of artificial intelligence.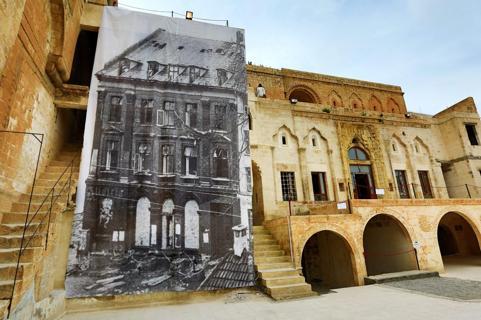 EBITso
No matter which side of the 5th Mardin biennial proposal hangs like a flag in front of the EBITso German headquarters, whichever side we take, we see the biennial or the biennial is far away, we thank artist Sacha Huber at racism at www.rentyhorn.ch By signing the document against. Let's support New Zealand's efforts to restore the name of the glacier to whom they belong.
Delivery to the Sun …
In 2015, Sacha Huber Jed Carver Shaman traveled with Jeff Mahuilka against Louis Agassiz, a racist scientist who claimed that blacks had smaller brains than whites, named after the many glaciers he discovered. When Shaman called his lands by their names in his own language, he would 'baptize' the song he sang:
"Poitini kai tahu my tribe, the breath of life Iotia my precious treasure, Kati mahaki my sub-tribe, tutoko my ancestral cave, macao my river, uruao my cano rakaihautu my chief …"
Losing to the wind, surrendering to the sun, the clich of tourism, the murder of historic site owners, and the promise to keep Mesopotamia for all of us in the midst of running water. The sound of grass. For those who know how to keep their word. For those who want. For those who want to be one with their essence. For those who care more about owning it …
The 5th Mardin biennial will run until June 20.