IZMIR – We continue our interviews with collectors of İlknur Baltacı, who have been collecting various items from Seychelles to door locks, pens to matches for many years. Baltasi says he combines his favorite things with natural urges.
We talked to İlknur Baltacı about the adventures of his collection since his childhood.
What is the theme of your collection? What kind of objects have you collected?
I always like the antique market and antique shop. Like many people, I am interested in things that are not used today and tell the story of the days when they were used. For this reason, I have collected so many things that I myself am surprised if I now list them to you. On the other hand, in the process, I try to ask myself what kind of emotional or social reasons are behind it. My savings; Old copperware, paintings, old French silver cutlery, pens, matches, seashells that I have dived or collected myself, old scissors, door locks and keys, ceramic or wooden wall plates, many photography books and photographer's albums, photography exhibitions and photographs. The museums I've seen are advertising postcards that were very common abroad, especially before the ads were digitized, souvenir stitched thimble from the city, magnets, boxes, other travel memorabilia such as bells.
Among my favorite and most valuable items are some of my grandmother's used sewing tools, my calligrapher grandfather's special scissors and some old scissors. My favorite pieces of copper are the bath bowls, which have no place in our lives.
'It's no coincidence that after bathing we said' get well '!'
Why a bath bowl?
First of all, a bath bowl is an object related to water. The existence of life is possible only with the existence of water. In other words, water-life-health is an integral part of the triad. When we look at the history of the bath bowl, the issue of health comes to mind first. The latest research shows that the adventure of Bath Bowl dates back 3,000 years. From that time until now, its shape has not changed with its round shape and a round protrusion to hold the bowl. In the polytheistic era, these bowls were used to supply the water that the gods had blessed for healing purposes.
We see that in the early days of the Ottoman Empire the potbelly bowl was used for healing purposes and it was believed that one would get rid of disease and evil by drinking its holy water or pouring it on the person. This practice has become increasingly widespread through the writing of prayers, verses, words, or numbers, which are believed to cure healing in bowls made of copper, silver, and gold. Over time, they have been used to take and pour water from basins without patterns, with the belief that washing in flowing water according to Islam. The relationship of bathing bowls with water, healing and cleanliness has always been the same since ancient civilization. So it's not a coincidence that we still say "good luck" after a bath or shower!
Later, the Ottomans added navel stones and continued the old Roman bathing and spa tradition, and the bathing bowl preserved its place as the oldest object in our memory, in addition to bath towels, bath shoes and bathing supplies.
So, what are the rare pieces you find important in your painting collection?
It includes Abidin Dino, Aliye Berger, Nurettin Erguven, Kamil Kamal, Mehmet Gulrews, Jacqueline Duheim, Fahri Sumar, Umur Turkar, Feriha Tugran, Ismail Ildirim, Selda Asal, Rehan Abakulioglu, Oldanlus. I have the table. One of these artists, Jacqueline Duheim, whom I knew when I was a donor and traveling to Paris, and who is now 94 years old, is the artist who drew the well-known children's book, The Little Prince. Two small paintings, one depicting Dataka and the other Paris, are very valuable. In fact, it is a pleasure to see, know, and see the works of your dear friends on your wall; This makes them more valuable.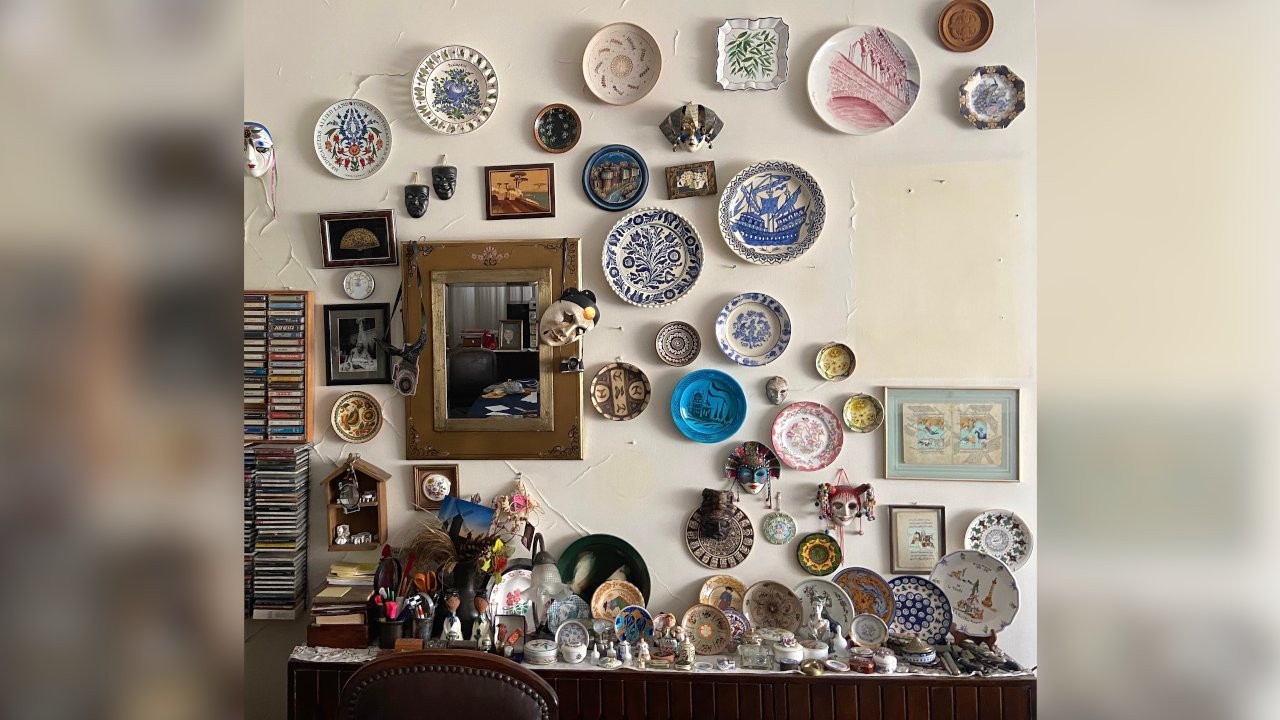 'Ceramic sewing thread is a special story for me'
Can you tell us a little bit about our ceramic material?
These are exactly the objects that are collected in the form of collections. I remember the days of travel in my work and personal life; Ceramic wall plates, small medicine boxes, small bells bearing the names of cities, magnets. However, in addition to these commemorative items, there is a group of ceramic objects that I value very much: my ceramics such as trinket houses, birds, cups, bowls and plates that bear the signature of the late Kutahya master, the late Sitki Olkar. One of the reasons why these are so special to me is that a few years ago I went to the master's workshop, took pictures and got to know him personally.
Another special and valuable collection for me is the ceramic sewing thimble, which is my mother's return gift, carefully arranged in the window of her house before her death.
When you started collecting these items, did you aim to become a collector?
I brought my favorite objects with a natural passion. Objects support each other, multiplied. For example, a sofa set that we bought at our home flea market and an old copper thing that I would use as an accessory triggers the purchase. This is how copper is deposited. I was buying other old things for the same reason. However, the relationship of collectors to objects was different. I realized this when I joined the Collectors Club. For the most part, they stockpiled items purchased for a price other than their intended use, and this value was generally expected to increase over time.
'There are fewer lucky children who can collect toys these days'
Do you think that other factors besides natural emotion create the habit of collecting?
When I asked myself this question, I actually thought it wasn't just me. Feelings of acceptance, my desire for power, the urge to align similar objects, I think, are events that everyone remembers in general, but in some people it comes to the fore. Other than that, when we think a little more and go back to our childhood days, we see how normal it is to have a lot of things frozen. If we talk about a house before today's consumer society, where parents who knew the disadvantages of the post-war period lived, many things were not thrown away in that house for economic purposes, they were set aside. My dad had a wooden box that he kept for home appliances repairs when needed. My grandmother and my mother kept scraps of leftover cloth from things sewn in a bundle and used those cloths differently if necessary. I'm talking about the day when a coat made of good fabric is turned over and used again. Buttons removed from worn-out clothes were stored in a button box for reuse. The remaining wool was collected from the net and reused together. Even the rags were stored in a separate bag and given to those in need of making a rag called kakala. The kids were taught to save, they bought a piggy bank and wanted to give them the habit of saving money.
In those days, some lucky children were able to collect toys. But even then, the girls 'pockets would be filled with beads and bead strings that they had saved for playing hopscotch, and the boys' pockets would be filled with stained glass oak. Saving was a normal part of our lives before the days when the old was quickly replaced with a new one and the needs were met in a digital environment. The idea of ​​collection can only exist in a wealthy family. As a holiday tradition, children were given handkerchiefs by adults after kissing their hands. For the first time, the only savings I have collected carefully, but what I do not have at the moment and what I can call a collection from scratch, is the handkerchief I collected on holidays. I'm always sorry for the inconvenience. My mother sewed a tissue box to hold my brother and my holiday handkerchief. The cover of the inner-lined chassis in the form of an envelope was decorated with handicrafts; We shaped the handkerchiefs into triangles and kept them inside. Unfortunately, I did not hide this valuable savings …
Now, when I think of this holiday tradition, my heart aches, because the only collection I have carefully collected for the first time, but the one I don't have now, and the one I can call a collection from the beginning, is the handkerchiefs that I I have collected the holidays. Although, I have distributed children's handkerchiefs on holidays, still, I would like to remember my present.
'I found out I'm not a collector'
You mentioned collectors who share items collected in Izmir …
Yes, a dear friend of mine suggested that I join the Izmir Collection Club, of which he is a member, due to his various experiences at my house during our frequent photo meetings. When I found out that my other known, dear and respected friends were also members of the club, I decided to attend and started attending club meetings on a regular basis. Of course, we are talking about the Corona virus before it enters our lives.
How did joining the club affect you?
Understood I am a collector, not a collector. Each of my club member friends was an expert in the collection and went far beyond their knowledge of their subject; Collectibles were displayed in different environments and promoted along with the show. I had friends who set up museums with their collections or exhibited their valuables registered in the museum and were preparing to set up a museum again. That's why I said in my mind I'm just collecting; On the one hand, I felt quite incomplete … but, on the other hand, by joining the club I had a window into a whole world. In the meeting, I learned about different and sometimes very interesting topics and objects from my collector friends and I enjoyed it.
For example, a friend's collection about sugar was very interesting to me. So much so that on some of my travels, I started collecting candy bags for her collection as usual! Or, as a photography lover, I was looking for old photographs in old stores for my old photo collector friend.
After all, what do you mean by those who want to be collectors?
A person's relationship with the object of life is very different from person to person. In other words, everyone creates their own story in this context. As I mentioned in the previous line, my collection of objects; My childhood days were made up of my business life, lifestyle and tastes, it was not my goal to be a collector. Luckily, I found myself among the prominent collectors. In answer to your question, it is possible to talk about two important things that I have seen these friends carefully focus on: thematic selection and in-depth research.