Valerant Games, which quickly entered the multiplayer strategic FPS (Frame Per Second) first-person video game segment in 2019 and has attracted a lot of attention in Turkey since its first day of release, is growing rapidly among women. Turkey's first women's volleyball tournament series, ESA Rebels Powered by Dell, was held with the participation of successful young female players from Turkey. As the title sponsor of the Professional e-Sports League for the first time this year, Coca-Cola aims to reduce gender inequality in e-sports, with one in five players being women. We met the successful players of the Valerant Women's League at the ESA Sports Arena in Maslak and asked what we thought.
Basak Karaka / General Manager of Coca-Cola Turkey
Our purpose Gender inequality To reduce
"As Coca-Cola, we are doing our best to strengthen e-sports in our country through our investments. However, our other goal is to reduce gender inequality in e-sports, where one in five players is a woman. To achieve this goal, We work with ESA Esports & Media. We run ESA REBELS Powered by Dell, which will be Turkey's first women's volleyball tournament series, of which we are a major partner.
Thanks to the tournament, women athletes will have the opportunity to improve themselves and represent us on the world stage in the best way possible. Our biggest goal is to further develop this collaboration, which we are beginning to show how strong and successful women are in the years to come, and to bring talented female actors to our country. "
Bushra Yardabak (25) / BBL player
In the world of e-sports I have entered the epidemic
"I graduated from Nişantaşı University's culinary department. After three years of cooking, I met the world of games during the epidemic. Until the epidemic I was not very involved with computers. I am very happy with where I am now because I have been very successful. The world of sports in a short time. I'm ambitious and I've participated in a tournament. I've joined the team with the high success I've shown. As women, we're really new to the world of e-sports, we're talking about a three year period. We can get a lot of bad words and harassment in games.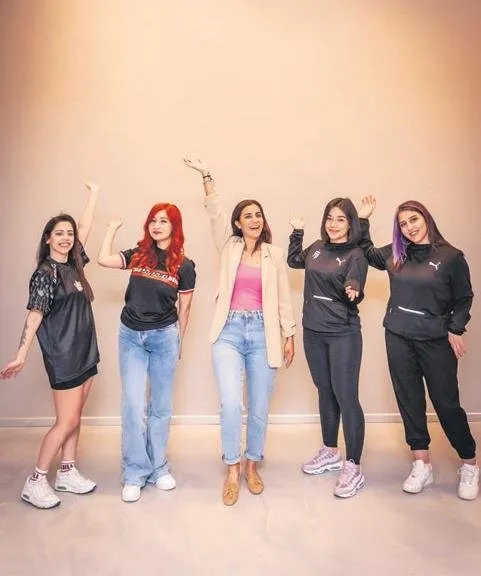 There is no difference between us and men in the type of game, in fact they are more impatient. Women's intelligence is slowing down men's reflexes. I am also a night man. I go to bed at five or six in the morning and wake up in the afternoon. My family was against it at first, they said "do your job". I was cold from cooking during the epidemic. I was very happy when I learned that I can improve as a profession and make money with my success in sports. I am making money and my family starts supporting me when they see that I am working hard in this field. "
Neslisah Demir (21) / captain of the football team
In Valorant I am a sniper
"I am a paid and insured player on the football team. I am a sniper who manages the game, gives commands and tactics to Valerant and starts the fight first. I am the best among the women in Turkey. I think this is the most valuable woman in the gaming world The family has always supported me, it is very difficult chemistry to have men and women in this game.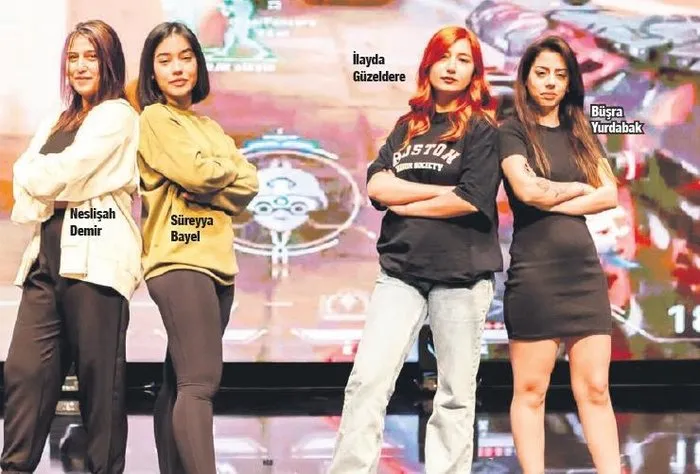 As men play harder and more excited, they become more cruel to their teammates in the game. In the game, I play as hard as a human and play aggressively with high adrenaline. My sleep patterns are different from normal people. I start the day at 5 and go to bed at 5. I play games at night and sleep during the day. I play about 10 hours a day; My diet is based on fast food. I have inexperience in my eyes, myopia and inexperience due to vision. Reading digital books broke my eyes. I am the person I want to be and the life I want to live. "
Sureya Bayel (23) / football player
My family is in the pharmaceutical industry. She wants to be me
"I studied for a scholarship at Koç University, Chemical Engineering and Biology, and I went to a science high school with a scholarship. I'm a game changer, an ambush and the most hypocritical character. I think intelligent is what sets me apart from male actors. That's the thing. When I play with a guy, when I get past him, I see that it's not my muscle memory because their reflection, their muscle memory is better than mine. I plan to pursue a career in cosmetics in the future, but my family wants me to pursue a career in the pharmaceutical industry. "Or I want to move forward academically. My sleep and diet are good. I think I live a quality life. However, my sleep routine changed during the tournament. My diet is good, I don't eat fast food. My family never interfered in my game. Now I get paid. "
Ileda Guzeld's (20) / Supermassive Blaze Actress
My grandmother before He was angry, now he is looking at me
"I am doing a double major in law, political science and international relations at Maltep University. I am a second year student and I passed my first year with a good average. I saw the world of sports from my mother and cousin. – Sports when I was six years old. I love playing Valerant. My goal is to be the best in the world of sports and in my professional life. I want to be an ambassador by profession. I want to run both at the same time and be very successful. I like competition in the game the most. There is no difference between men and women playing this game. We play games with my boyfriend and I don't think I miss him. I play even better than him. I spend a lot of time. Because I live with my grandmother, she didn't want me to play the game at first, then she started to support me and look at me. Girl, these are witches'. Accepted with understanding. I read a lot of books, I don't have much time these days. I can't eat very healthy. "
Lale Ergin / ESA Esports & Media co-founder and CEO
Women Good Is There are fields
"I've been in this industry for almost three years. E-sports is a new emerging industry around the world that has fallen into place and is growing very fast … I am the mother of an 18-year-old girl. There is no difference between women and men. They are not different from men. On the contrary, there are areas where they are better. We want to organize tournaments with mandatory women's quotas. We cannot predict jobs for our children in the next 10 years and "the world is moving towards digital. So I always advise families not to deprive their children of the digital world. Playing with friends in the digital world falls into the same category of socialization as ball game socialization outside.