From the Rector of Istanbul Kaltur University:
According to the Higher Education Act No. 2547 and the provisions of the Central Examination and Entrance Examination Procedures and Policies applicable to the recruitment of academic staff other than faculty members, lecturers shall be appointed with specific titles as opposed to academic units. Stated below.
The application period is 15 days from the date of publication of the announcement, and the application must be submitted in person or by post to the Dean's Office and the Directorate of Vocational Schools with the required documents. (Note: Applications that are not submitted on time and do not have documents and applications made online will not be accepted.)
Date of announcement: 31.05.2022
Last date of application: 14.06.2022
Date of announcement of initial assessment: 17.06.2022
Entrance Exam Date: 21.06.2022
Date of announcement of results: 24.06.2022
Website where results will be announced: https://www.iku.edu.tr
Application Procedure: Personally, by mail
Phone number: 0212 498 41 41 (Switchboard)
(React / Vocational School Secretariat needs to consult the concerned faculty / department where application for the relevant post will be made.)
Application address and contact information:
1. For the application of the Department of Foreign Languages ​​affiliated with the concerned staff and Rector of the Faculty of Health Sciences, Şirinevler Campus Address: E-5 Karayolu, No: 22, Bahçelievler, Istanbul.
2. To the relevant relevant staff of the Faculty of Arts and Sciences and the Faculty of Engineering
Ataköy Campus Address for Application: Bakırköy 34158 Istanbul on E5 Highway, Declared Unit Information, Staff Title and Special Terms: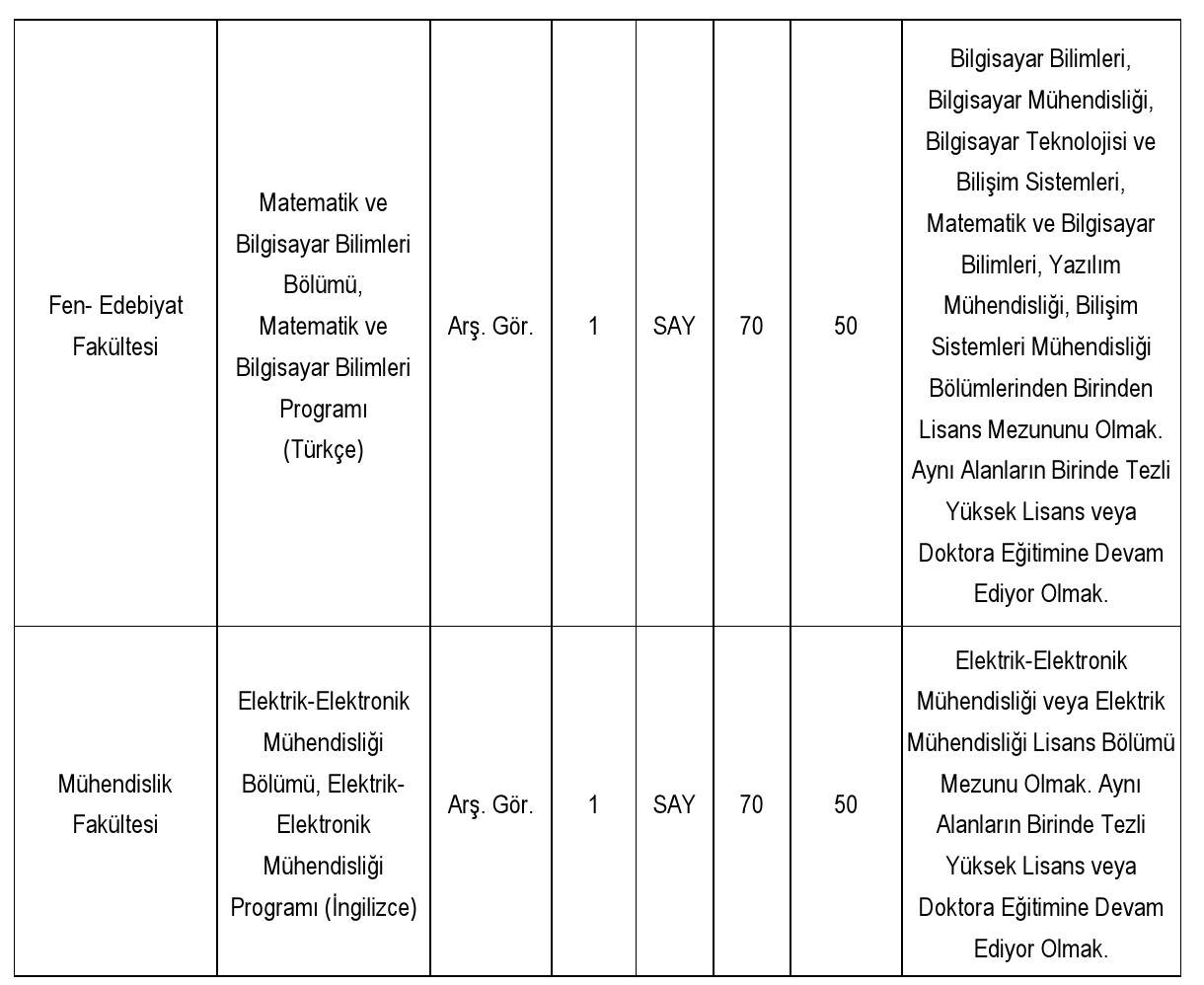 General Conditions:
1. The conditions specified in Section 48 of Act No. 657 must be fulfilled.
2. A score of at least 70 from ALES, at least 50 from the Central Foreign Language Examination adopted by the Higher Education Council, or an equivalent score from an equivalent examination is required. ALES scores of 70 are accepted at the pre-assessment and final assessment stages for those who request to benefit from the Central Exam Exemption.
3. The equivalence of the 4th and 5th grade system used in the calculation of undergraduate and graduate grades at the primary and final assessment stages is determined by the decision of the Higher Education Council. The Senate of Higher Education Institutions decides on the equivalent of 100 grading system with other grading systems.
4. Equality of diplomas obtained from foreign countries must be approved.
5. Candidates have no service obligation towards any organization,
6. Not all applicants have taken disciplinary action for any reason,
7. All applicants, for whatever reason, do not have a criminal record and archive record,
8. Male candidates applying for the declared position should not be in court or court situation in case of military service.
9. Applicants should apply for only one post, as the examination will be held on the same day. Candidates applying for multiple positions will not be considered for both applications. (For multiple posts)
Exemption:
1. Central examination is not required for those who have completed doctorate or doctorate or specialization in medicine, dentistry, pharmacy and veterinary medicine or industry, who will be appointed in specialized field as determined by the Council of Higher Education. Vocational schools, and those who have worked or are currently working as teaching staff in higher education institutions.
2. The scope of paragraph 4 of Article 6 of the Central Examination and Entrance Examination Procedure and Policy Regulations does not require foreign language to apply to any educational staff other than teaching staff. Applicable to recruitment for staff of academic staff other than faculty members of vocational schools.
Documents required:
1. Application Petition. (Application petition, date of announcement, name of applicable faculty and department name, title of applied staff, contact information of applicant candidate (residence address, telephone, e-mail address and list of submitted documents) must be mentioned in the application. Requests to benefit from Central Exam Exemption) ALES score is accepted as 70 in pre-assessment and final assessment stage.)
2. In accordance with the relevant regulations, those who apply for exemption from the Central Examination in their petition are required to provide proof of exemption (photocopy of doctorate diploma, photocopy of proficiency in art diploma, or authorized work document showing that they have worked or are working) in full-time teaching staff. To do.)
3. Copy of identity card (it will be readable on front and back.)
Curriculum Vita with pictures (in YÖK format) or Private Curriculum Vita (CV)
5. 2 passport photos (must have been taken in last six months)
6. Photocopy of Graduation and Student Documents to be applied to the staff under special conditions, (Graduation Certificates which cannot be obtained through e-Government must be notarized, and Student Certificates must be formally approved by the University of Education. Govt.) Submitted and submitted documents will be accepted by the faculty authorities at the time of application after verification process through e-Govt.)
7. Photocopy of transcript document,
8. Document of Central Test (ALES) results. (The results of this test are valid for five years from the date of announcement.)
9. Equivalence of foreign language test result documents accepted by YÖK or accepted by YSYM,
10. Documents obtained from e-Government stating that he has been discharged, suspended or exempted from military service for male candidates,
11. Barcode documents will be obtained from e-government by investigating a judicial record, giving the address to the government institution, selecting another and submitting to our university, reasons for granting the document, and showing the absence of "criminal record". And "Archive Records",
12. Copies of diploma documents obtained from foreign countries, sworn translation approved by the Higher Education Council and Certificate of Equality,
13. Documents of authorized work obtained from the place of employment, where the application will be made for the employees and show the educational experience, title and period of seniority specified in special conditions for the time required in the case.
14. With the decision to publish or publish scientific studies, if any.
From the Rector of Istanbul Kaltur University:
For the Academic Units of our University whose information is given below, for the relevant title, the general conditions are provided in Article 487 of the Civil Servants Act No. 657, which is set out in the Terms of Higher Education Act No. Salary and personal rights, a faculty member who will be appointed on a permanent basis subject to the provisions of Labor Act No. 4857, will be appointed.
The application period is 15 days from the date of announcement, and you have to apply in person or by mail to our university rector. Candidates who do not meet the specified conditions and do not apply within the time limit will not be accepted.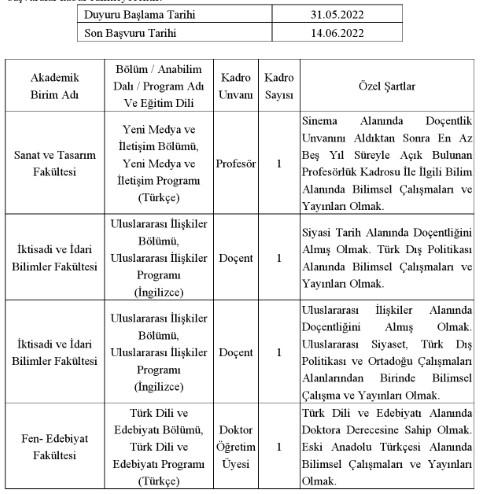 General condition
1. The general conditions contained in Section 48 of the Civil Service Act No. 657,
2. Candidates have no service obligation towards any organization,
3. Equality of diplomas obtained from foreign countries has been approved,
4. Completion of military service for male candidates,
5. In programs where the medium of instruction is English, the applicant must meet the conditions specified in the rules for teaching and learning foreign languages ​​in higher education theory,
6. The assessment is made by the cadre rector of doctors, associate professors and professors in accordance with the guidelines regarding promotion and recruitment of candidates for the faculty membership of Istanbul Kültür University, published on our university's https://www.iku.edu.tr/tr/yonergeler page. The application of the candidate is subject to a preliminary examination by a commission consisting of Vice-Rectors under the direction of the relevant Vice-Chancellor. Applications not found to meet the "minimum criteria" in the preliminary examination will not be evaluated.
General documents required for all applications:
1. Candidates, in their wet-signed petition to address the Rector of our University, include the date of announcement, information about the academic unit, the surname of the staff they applied for, their foreign language information, contact (GSM, E) – mail, residence address , Home / work telephone etc.) information. In addition, their names and contact information (the organization they work for, their address, GSM, e-mail, work) must be listed and indicated. Phone etc.) Two faculty members about whom scientific references can be taken and the information of the documents submitted to them.
2. 2 passport size photos taken in last six months,
3. Copy of identity card,
4. For male candidates; Barcode document must show military service status from e-government,
5. A document with barcode, which will be obtained from the e-government through a criminal record investigation, with the address of the government institution, other reasons for submitting the document to our university, and it will be shown that there is no "crime record". And "archive record",
6. Barcoded printouts of undergraduate, postgraduate, doctoral, graduate certificate and associate professor's certificate must be obtained through e-government application, for graduation documents which are not available through e-government, a copy of their approved or notarized copy from university .
7. For candidates who apply for programs whose medium of instruction is English, a central foreign language test or equivalent test result document accepted by YÖK which shows that they have obtained at least 85 points from English language,
Additional files and electronic documents required by the title:
1. 1 printed physical file covering candidates' CVs, scientific studies and publications in YÖK format, along with their electronic (USB flash memory) files in PDF format, 6 USB sticks for faculty staff, 4 Associate Professors for private and Send or distribute by post to our university rector
Address for distribution of documents: TC Istanbul Kultur University Rectorate, E5 Highway 34158 Remaining in Istanbul
Contact phone number: (0212) 498 41 41
5939/2 / 1-1