EGE IŞIK ÖZATAY isik.ege@gmail.com
Yalkin Gokebagh, the great name in simple painting, who has created nearly 4,000 works in his 64-year career, explores the past in his previous exhibition 'Past Long Lasts' at the Sanat Kibele Gallery, and his innocent, sincere and fairytale childhood: I remember the days of my childhood. Its purity, beauty and naturalness do not leave my mind. I still remember living in that village.
class = "medianet-inline-adv">
When I was a kid, I was fascinated by the green and yellow fields I saw with my parents when I visited the Church of the Virgin Mary in Selkuk. Looking at your works reminds me of these childhood memories. Which aspect of nature do you consider? Where is the beautiful landscape we see in your work?
In the evening of 1974, we were returning home from a friend's house with my wife when we were hit by a speeding car from behind. We had very bad fractures all over our body. For two years, we spent some time in the hospital, some at home, in plaster. By then, I was drawing a little more pessimistic, abstract, conceptual, suddenly a thought came to my mind. I told myself, "Life is beautiful, worth living." One of the most beautiful memories of a human being is childhood memories … I started drawing with those eyes when I got better and I saw the pictures I made with the eyes of a child; Village weddings, those who work in the fields, those who collect grapes in each other's fields together … At that time, I saw the fields from a 90 degree angle like an airplane and thus I got a chance to see everything collectively. There was no perspective, it brought me a different format and composition. For example, I decorated the apple orchard and the orange orchard, I was making people from a different angle, it was almost like a miniature, but it was not miniature and this work continued for a long time. The beginning of this style is roughly 1975-76.
class = "medianet-inline-adv">
How was your childhood
My late father was a traveling headmaster and my mother was a housewife. I used to go to school as a teacher's child. My father was my teacher for two years. I spent my childhood in the village, in the Cal district of Denizli. There was no water, so I grew up in a flat-roofed house. In the vineyard, in the field, we had a completely independent life. We had a donkey, and we would go to the water with my brother. I spent my childhood in the countryside and on the slopes.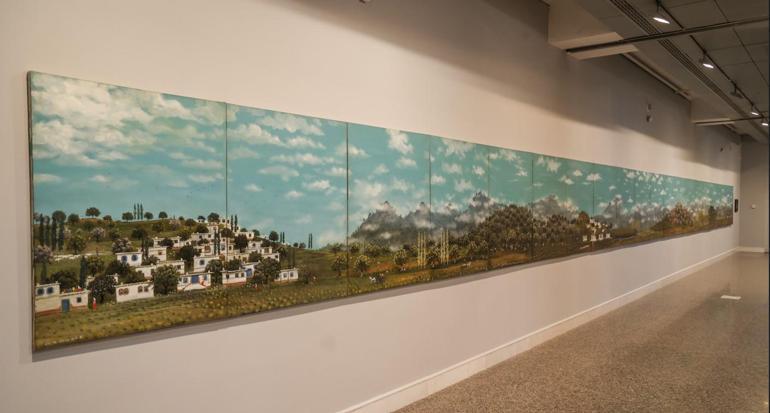 Your show title is 'The Past Lasts Long'; How would you explain the relativity of time?
I spent my life at work. When I'm alone, I sometimes think about the past and ask myself: How did I get here? When did all this happen, what happened? I will never find the answers to these questions. It passes so fast; Work work and work. What happened, who came and went, but everything is like a 'moment' and what we have is the present. 'The Past Lasts Long' is an exhibition that compiles my whole life and an exhibition that I have always wanted to open. In this sense, it is especially important to me.
class = "medianet-inline-adv">
It must be a magical 'thing' to capture the past, rural life of your childhood through painting …
I always say I could not come to the city from the village. I still live in the village, my mind is always on the village. Physically living in the city does not change this reality. The purity, beauty and naturalness of my childhood days spent in the village do not remain in my mind. I can't forget the people's attitude towards each other, helping each other, their neighborly relationship and addressing them with respect and love. The sounds of the village, the sound of horse-drawn carriages, the cries of donkeys, the sounds of cattle, the sound of herding in the village in the evening … these are the things that impress me the most. I still live that rural life in my mind.
class = "medianet-inline-adv">
What do the farm workers, an adobe house with smoke in the chimney, whisper in the ears of the villagers who eat their food in the field?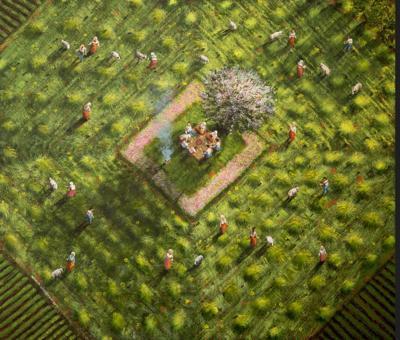 Sixty percent of the people living in the city have moved out of the village, their past is involved with village life. That's why viewers see their past, remember the old days, the days of childhood. I'm going on this philosophy. Also, because I'm a cameraman; We had a hard light lesson. So I capture the romantic, poetic light in my work. The best light time is revealed as the evening sun sets. Human face, details, good looking. Class = "medianet-inline-adv">
How did you choose the works in your previous exhibition?
In my 64 years of painting adventure, I have painted about 3,500-4 thousand oil paintings on canvas. So I have pictures in the houses of three and a half thousand people. This is a selection of these pictures and the ones I made at school and in Capa I couldn't put any of them. For the first time in this exhibition, I saw my own paintings together. My work was collected from collectors. I still keep my paintings that were not sold at first. I also gave the pictures in hand.
The previous exhibition, entitled 'The Past Lasts Long' by Yalçın Gökçebağ, is in the İş Sanat Kibele Gallery until July 23.