Father's Day, which is celebrated on the third Sunday of June every year, coincides with June 19, 2022. Millions of people from young to old celebrate Father's Day. The children of martyrs are martyred to celebrate the Father's Day of their heroic fathers. Like every year, this year too, Father's Day is casting a shadow of mourning for the children of heroic martyrs.
According to the IHA report, The wife and children of police officer Battal Ildiz, who was martyred in a clash with burglary suspects in Istanbul's Tuzla district in 2017, poured rose water to clean their father's grave, which they visited on Father's Day. The children of the martyrs plant wind roses in their father's grave as a Father's Day gift.
The wife and child of police officer Batal Ildiz, who was shot in the chest and taken to the hospital where he was taken, were shot dead by a suspect during a chase on the Ihambul E-5 Emeler Mahalesi station bridge in July. 16, 2017, on suspicion of theft, mourning on this Father's Day. Emin Ildiz, wife of Martyr Battle Ildiz, who visited his wife's grave at the Shaheed Cemetery in Konya's Akshehir district with her 2 sons, cleaned and cared for the grave with her sons.
They cleaned the gauge of the hero's father with rose water
Emin Ildiz, who used a hose to clean the tomb from the dust with water, then to clean the tomb with a cloth in his hand. The eldest son of the martyrs Hassan Ilyas (11) and his youngest son Mehmet Ali (7) poured the rose water in their hands on the cloth and wiped their father's grave and the whole grave with rose water. The children of the martyrs, who brought it as a gift to their father on Father's Day, planted 2 wind roses in their father's grave.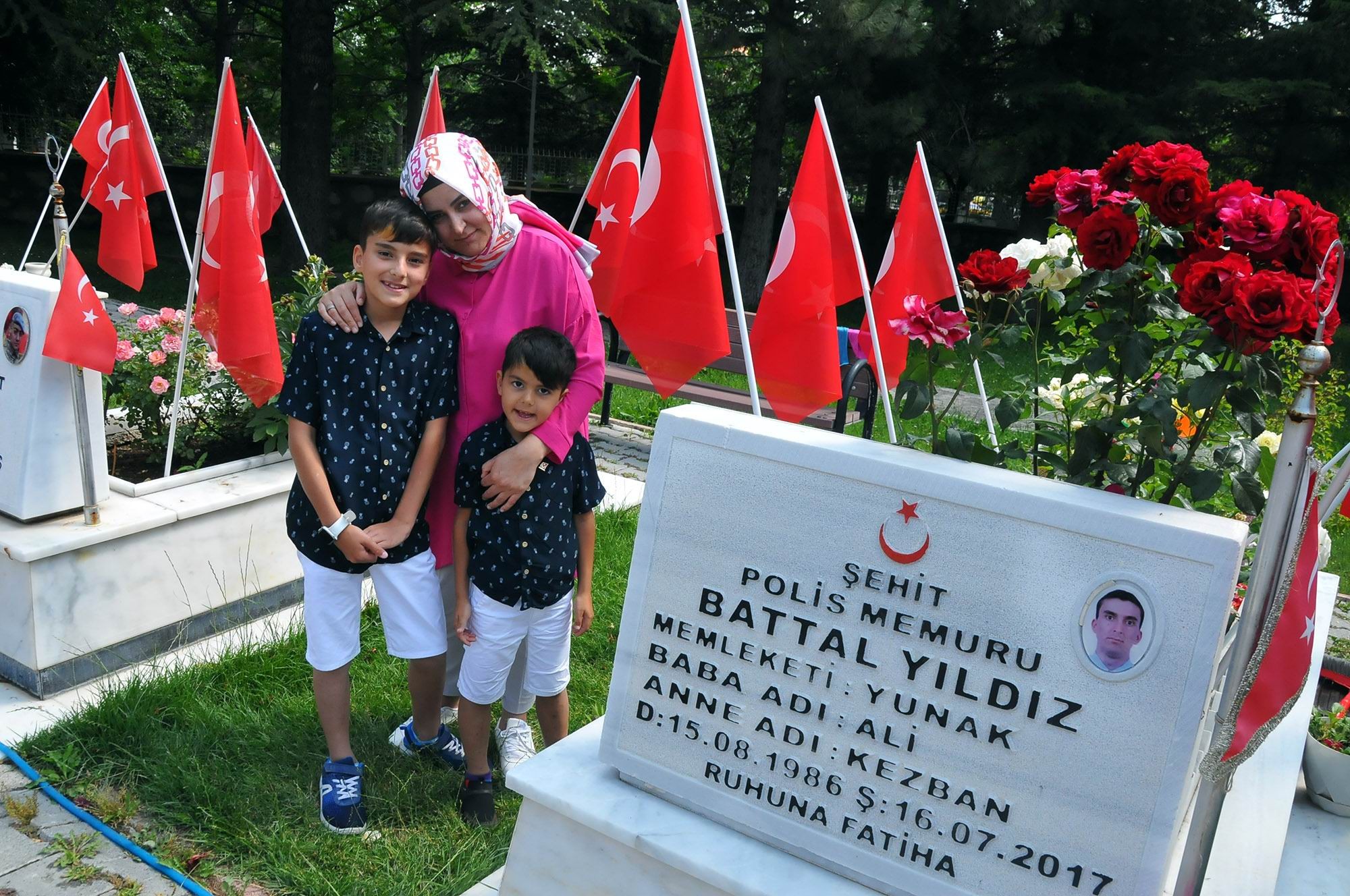 Planting cherry saplings in Shaheed Garden
Explaining that they planted cherry saplings, the favorite fruit of the martyr's wife, in the garden of the martyr at the request of his son, Emin Ildiz, the wife of the martyr, said, "It was the second Father's Day. We moved to Konya. The school was preparing for Father's Day. We were having dinner with Hassan Elias. While eating, he asked me, 'Which fruit do my father prefer?' Saying I said she likes peaches and cherries very much. I asked my son why did you ask? He said that if a cherry tree is planted in the garden of the graveyard on Father's Day, even if the father cannot eat, others will eat. It was out of the planting season. Because it was not suitable to plant cherry or any other fruit tree on Father's Day. We have done a lot of research. In the big pot, the tree felt its roots in the ground. We found that kind of nursery. Then I brought that sapling and planted it in the graveyard. When you planted them, they said 'don't be overly optimistic, this sapling won't grow', but it caught on very well. On the third Father's Day last year, we had a small cherry in hand. I don't know why, due to the season this year, there were no cherries, but we also took a picture with the cherry fruit last year. We tore that cherry off on Father's Day last year, "he said.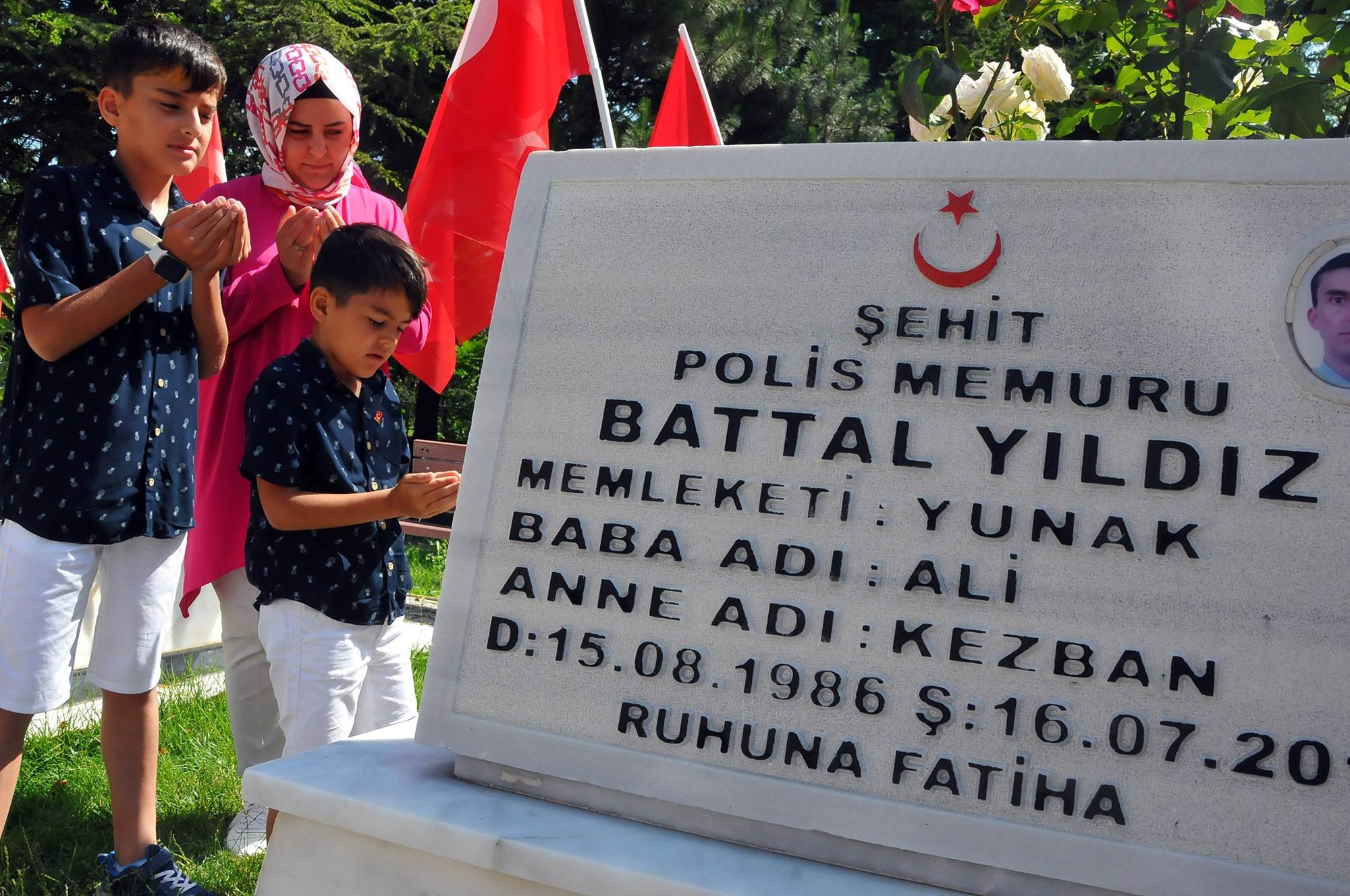 "My name is Dad."
Hasan Elias, the eldest son of the martyr, who prayed with his mother and brother at his father's grave on the occasion of Father's Day, said, "There is nothing to say. We brought a weather van as a gift for my dad on Father's Day. We also bought solar panel lights on Father's Day last year. May your name be joyful, my father, "he said.
Mehmet Ali, the youngest son of the martyr, who was 16 months old when his father was martyred, sat on his tombstone because he could not sit on his father's shoulder to survive and said, "I see my father in a dream. My father carried me on his shoulders in my dreams, "he said.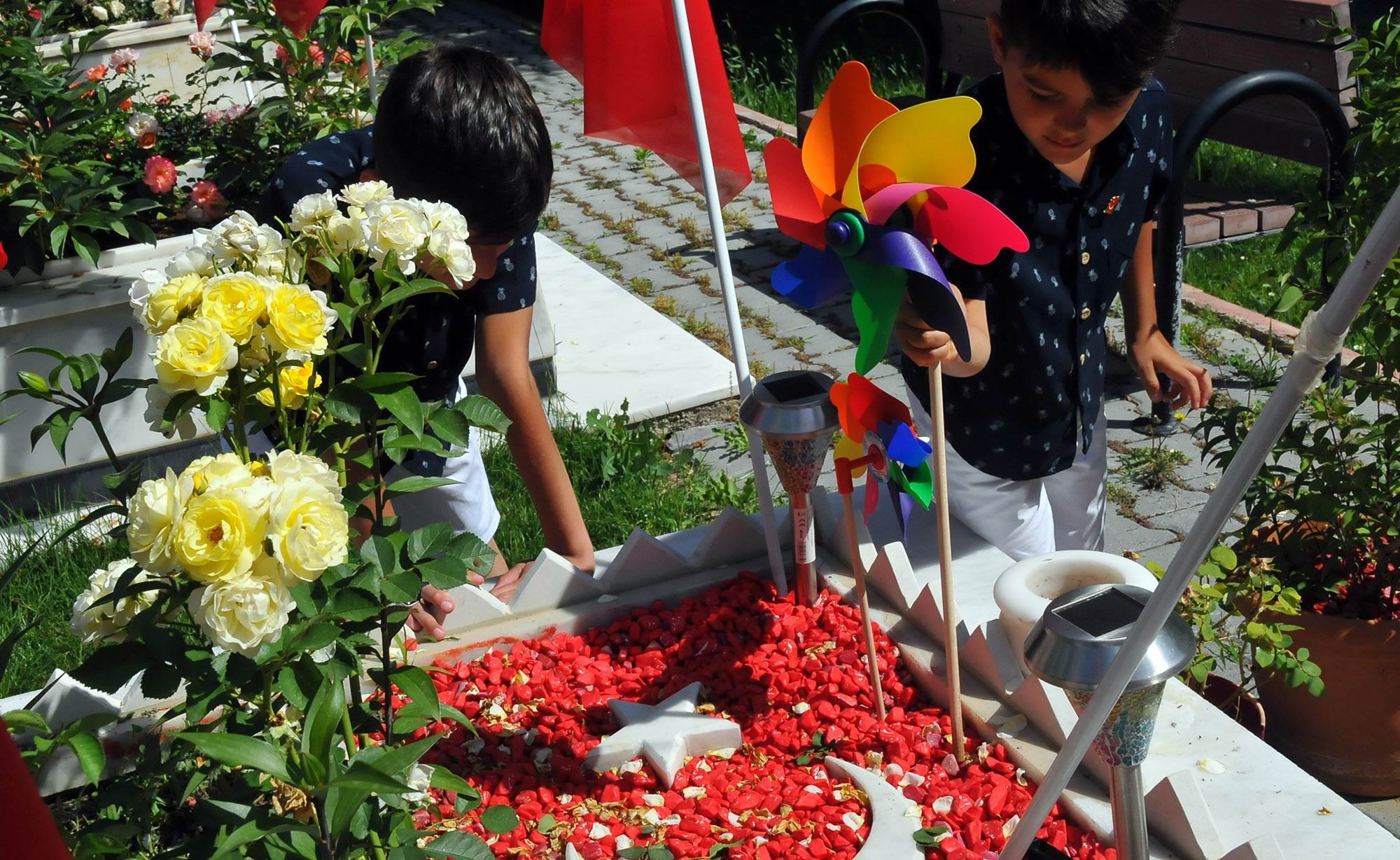 "Dad's Grade Stone, My Dad's Shoulder for My Son"
"Every time we come to the cemetery, my son always sits on his father's grave and we take pictures of him," said Emin Yildiz's wife. Here's our dad's neck for us, and we'll go there once. Hassan Elias is pressuring me not to cry right now. My son shared on social media last year that 'our father is not with us, but he will see us forever'. May he raise them in a way worthy of the honeymoon and when the day comes he will be able to appear before us as the neighbor of our Prophet. I always say the same thing to Hassan Elias. When your father extends his hand to you, let him give us a chance to appear before him who can be a worthy son for him. I said that your wreckage is my wreckage, because I held him with my last breath. Give him a chance to tell me I was able to take care of his wreckage, "he said.